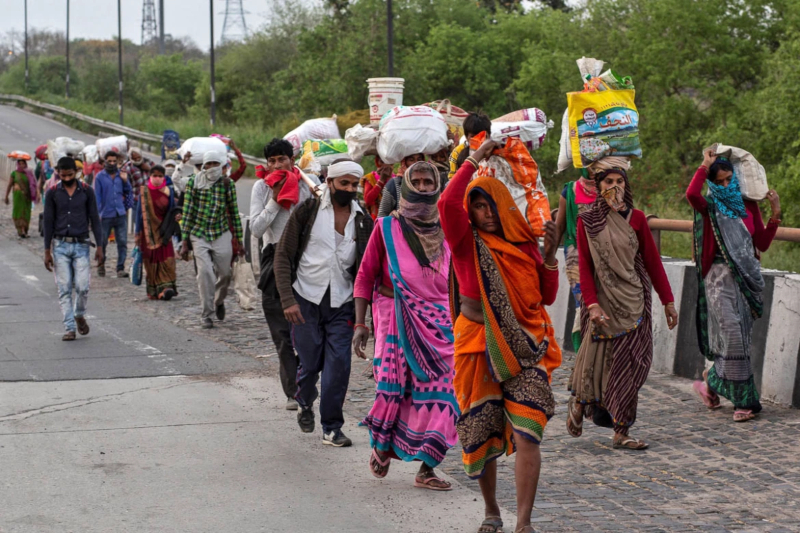 india migrants
Since the first lockdown imposed in India in March 2020, migrant workers throughout the country have struggled to make ends meet.
The Covid-induced lockdown has badly impacted the economically weaker section, rendering many unemployed. It has led to increased economic distress for the feebler sections of society.
Migrant workers have faced issues related to transport, healthcare, and basic facilities to ensure their hygiene and safety. Even though migrant crises were prevalent for the longest of times, the pandemic has accentuated the crisis all over the country.
With the increasing rate of unemployment, the Gujarat government said that MGNREGA has acted as a lifesaver for labourers forced to return to their homes but the schemes launched for migrant workers' benefit amid the pandemic "were slow-paced" according to the Supreme Court.
Related Posts
The country's apex court also said there should be supervision of these welfare schemes to guarantee that it reaches the concerned and deserving beneficiaries. The state authorities were asked to not charge fare from any of the migrant workers and provide them free food till they boarded trains or buses.
Railways board said that about 805 people sustained injuries and a total of 8,733 people died on the tracks between the two months of January and December in 2020
Punjab, which saw an emigration of over 5 lakh migrants during lockdowns last year, faced around a 40% shortage of labourers in the lately ended wheat procurement season.
India had enactment on domestic migration in the form of the Interstate Migrant Workmen Act, 1979, which guards and regulates the hiring, working and living conditions of the migrant workers, but it is said to be poorly implemented.
The continuing wave of the pandemic has badly exposed the frail health infrastructure in many rural areas.
Several instances of reduced food intake and surging dependence on food grains from the public distribution arrangement have also been reported.