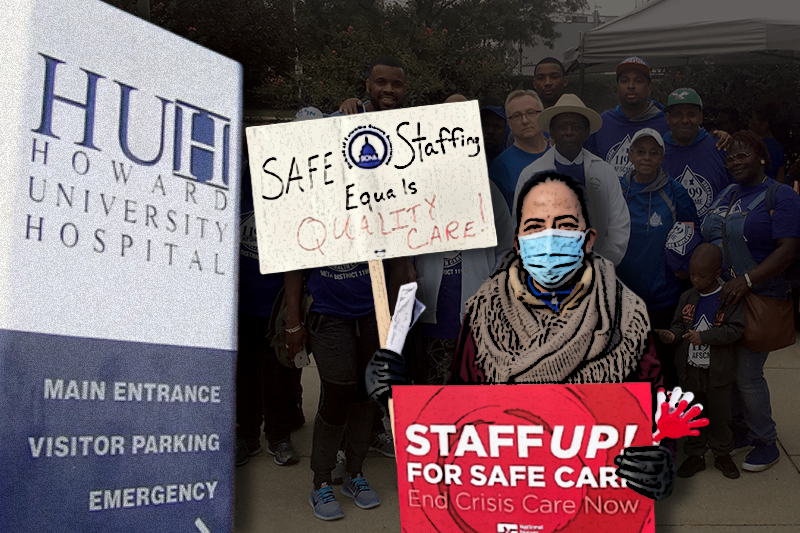 Health Care Workers Strike At Howard University Hospital Over Low Wages

United States – Many health care workers at Howard University Hospital protested against alleged unfair labour conditions and wage contracts on Monday. The underpaid doctors held a one-day strike and demanded more payment and fair contracts.
The District of Columbia Nurses Association (DCNA), a labour union that represents nurses, pharmacists, and social workers, also participated in the strike. The strike included over 300 nurses, pharmacists, dietitians and social workers.
They said that the hospital workers are understaffed and underpaid. According to NPR, they demanded fair contracts and adequate staffing in order to care for patients safely. They said that healthcare professionals working at the hospital have also been understaffed throughout the Covid-19 pandemic. They said, "We have given everything we have to Howard during this pandemic."
Related Posts
Later on, Howard University Hospital CEO Anita Jenkins said that the strike will not affect patient care. Jenkins said, "Our patients come first." Edward Smith, executive director of DCNA, said, "Management has put forth cuts in deferential pay for employees with 20 years or more experience."
According to a news release from the D.C. Nurses Association, nurses have experienced cuts to shifts, which have affected their salaries. The hospital has been working diligently to reach a new Collective Bargaining Agreement with DCNA. They have been involved in negotiations since last July. However, they could not reach any agreement.
The protestors said that hospital management walked away from the bargaining table in mid-February once management presented their final offer. They said this issue is a matter of "dignity" and "respect." They claimed after months of bargaining, the hospital still wants to implement cuts. They further said that they are left with no other option than to strike.
The latest strike of hospital workers comes just a few months after they protested being overworked and understaffed in January. They complained about low wages and staffing issues.