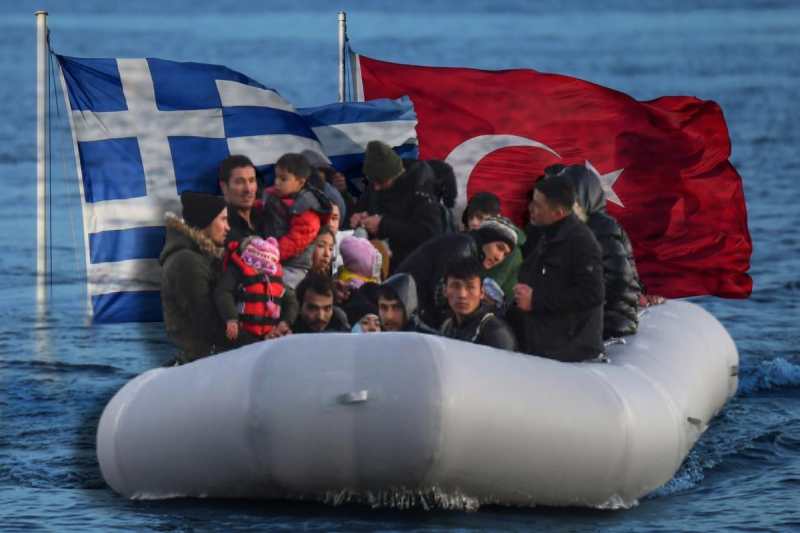 migrant boats
On Friday, Greek Migration Minister Notis Mitarachi slammed Turkey for using innocent migrants in order to "provoke an escalation" with Athens. Mitarachi said that the boats carrying migrants, which were trying to enter Greek territorial waters, were seen being accompanying by Turkish coastguards and navy.
Mitarachi issued an official statement saying, "It is beyond doubt that these migrants departed Turkish shores, and given the fact they were supported by Turkey, were not at risk… We call on Turkey to stand down and stop this unwarranted provocation."
Turkey denied the accusation and in a counterattack on its decade-long Mediterranean adversary, blamed Greece of pushing away over 200 migrants, who were trying to take refugee on Greek islands. In response to Mitarachi's claim, Turkish Deputy Interior Minister Ismail Catakli said that his country's forces were wrongly accused as they rescued the migrants, who were left to their misery by Greek security forces. Catakli took to Twitter and wrote, "That's a crime against humanity to slander the Turkish Coast Guard saving people you left to death. That's typical of you!,"
Greece, being at the frontline, bores the burden of massive migrant inflow. The country urged Ankara to abide by the provisions of its 2016 migration deal signed with the European Union. In 2015, Athens witnessed a cascading influx of about a million asylum-seekers, mostly from the conflict-riddled states of Syria, Iraq and Afghanistan, seeking refuge in safer nation in 2015. But it triggered major migration crisis in the country, following which the bloc signed a deal with Turkey, paying latter millions of dollars in exchange for providing safe and humane refugee camps for the migrants.
Earlier this week, EU Home Affairs Commissioner Ylva Johansson visited the Greek island of Lesbos, to review the nation's state of affairs with respect to its migration crisis. She urged Athens to build more camps and adopt a more transparent approach towards application procedures for refugees. Mitarachi, disagreeing with EU's migration strategy for his country, stressed on Greece's increased struggle with constant inflow of asylum-seekers over the last couple of years. Both the union and the nation acknowledged the fact that building new camps wasn't a permanent solution to the issue. The Mediterranean nation rather pushed for a "fast and fair asylum procedures", where in asylum seekers had the liberty to directly apply for asylum in other European countries as well.
Related Posts