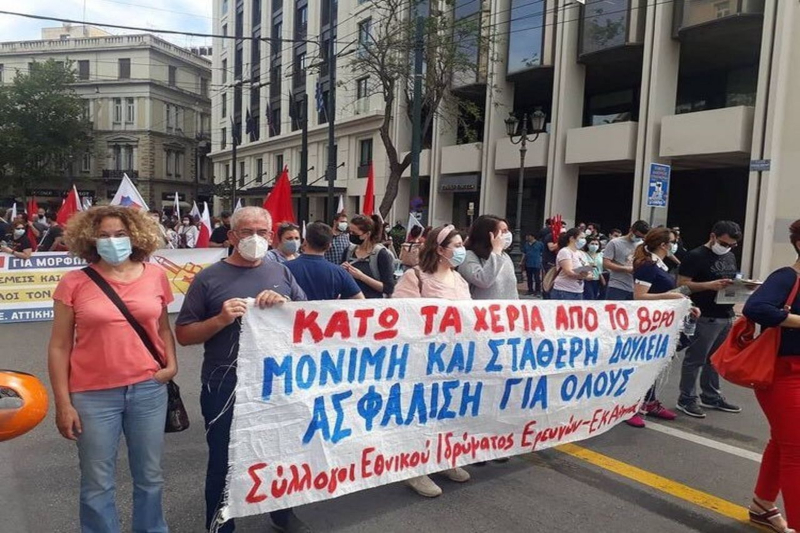 new labor bill
 On Thursday there is a 24 hour strike Greece by trade union federations across the country, protesting against government's new labor bill. The strike is called by the General Confederation of Greek Workers (GSEE) and the Civil Servants' Confederation (ADEDY) is projected to cause major public transport, public services and the media disruption.
On June 10 during strike, metro, electric railway (HSAP), or trolley and tram services will be non-operational. The Hellenic Railways Organization's (OSE) trains and those of the Suburban Railway ('Proastiakos') will also stay put in their depots through the day.
"The Confederation has from the outset expressed its strong disagreement with the controversial provisions of the labor bill, which would deal a huge blow to the labor market, collective bargaining and society," the GSEE said in a statement.
During Thursday strike, only buses will operate from 9:00 AM to 8:00 PM. The limited timings are because workers are also staging a work stoppage at beginning and end of their shifts. Transportation sector workers will also participate in the protest that is scheduled for Thursday at 11:00 AM at Klafthmonos Square in central Athens. Due to the participation of 13 seafaring unions of Panhellenic Maritime Federation also in the strike, the ships now at ports in Greece are expected to remain moored.
Related Posts
"The legislative initiatives announced by the government for the abolition of the eight-hour working day and the further reduction of workers' rights require the dynamic and coordinated reaction of all trade unions," the Federation said in a statement.
In month of May, Greece announced a new labor bill that according to Kyriakos Mitsotakis government will boost competitiveness as a result of more flexible timing. The most controversial part of the bill is that it introduces flexibility to the eight-hour workday by permitting workers to work up to 10 hours on one day and lesser hours on another, or also take time off.
The opposition left wing has strongly criticized the bill citing the reforms to undermine workers' rights. Left wing Syriza opposition says that the law at time of pandemic makes workers even more vulnerable to job losses. Syriza leader and former prime minister Alexis Tsipras said, "It is trying to use the pandemic as an opportunity to impose the most anti-popular measure a Greek government has ever brought against the world of work: the abolition of the eight-hour working day."