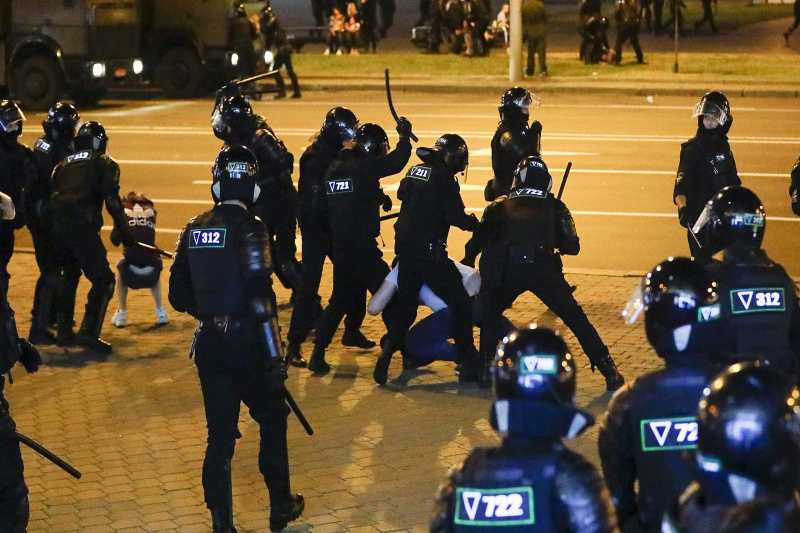 belarus police brutality
Last updated on April 4th, 2021 at 06:30 pm
The rights activists have urged authorities to end the brutality against peaceful demonstrators in Belarus. A week ago, the Human Rights Council passed a resolution censuring violations of fundamental freedoms and multiple rights.
Since Aug 2020, residents of Belarus and resistance pioneers are saying that the election was rigged. However, the Police's crackdown against the peaceful protesters has grown progressively violent. Since then most Opposition leaders have either been forced to exile or are arrested.
According to HRW, since the protests began, more than 30,000 people have been confined, hundreds were badly beaten, and there were reports that few succumbed to their injury.
The Belarusian Opposition party and the West state that the elections that Alyaksandr Lukashenka claimed extended his rule for a 6th term were manipulated, and are demanding fair elections and justice for violations protesters have faced.
Human Rights experts are worried that security forces have not been charged for their excessive use of force against Belarus' peaceful protesters.
In March 2021, the Human Rights Watch (HRW) expressed that Belarusian authorities have "heightened" restraint against free media in the course of recent months, subjectively beating and arresting columnists, forcing fines and jail sentences on politically roused charges, canceling their media credentials, and illegally raiding their workplaces and houses. The police crackdown aims to silence media from reporting about the human rights violation by police, HRW states.
Hugh Williamson, Europe, and Central Asia chief at HRW, said "Rather than guaranteeing justice for police brutality and other injustices, Belarusian governments are indicting journalists from reporting on these issues".
On 19 September 2020, police arrested over 300 women protesters in Minsk, Belarus who were calling for the resignation of President Aleksandr Lukashenko. Opposition leader Svetlana Tikhanovskaya also denounced the arbitrary detentions and defined them as "lawlessness." 
Related Posts
On 25 March 2021, during a peaceful rally commemorating Freedom Day around 176 people were detained and later seven journalists along with 240 people were apprehended.
Recently, the experts in a statement said that they were shocked at the high number of alleged random arrests and confinement "which showcases a never-ending pattern of police cruelty against the protesters".