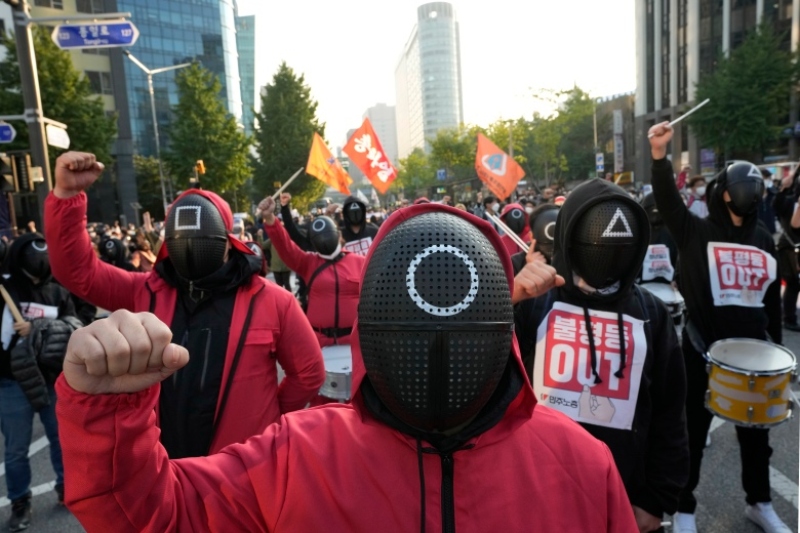 south korean workers wear 'squid game' costumes to protest government

South Korea – Seoul, the capital of South Korea, recently saw a different take on protests by workers. The streets of city were flooded with thousands of workers demanding better working conditions, dressed up as characters from popular Korean television series Squid Game that is being aired on Netflix. The drama is gaining popularity across the world that is based on deadly survival games being played by children in real life. The program that premiered on September 17 on Netflix is a survival drama that showcases 456 under-debt people compete in children's games that have fatal outcomes.
On Wednesday, over 80,000 members of the South Korean Confederation of Trade Unions performed strike across 13 different cities in South Korea, according to The Strait Times. The workers are demanding the government to improve the working conditions of workers in irregular model as well as raise the minimum wages. Thousands of workers wore pink jumpsuits like the characters in Squid Game and also wore masks similar to those in the show. The masks had white circle, square or triangle symbols similar to those worn by guards in 'Squid Game' and were seen beating drums and dancing.
Related Posts
Lim Yun Suk, the Korea Bureau Chief for Channel News Asia, tweeted, "Several union workers dressed in #SquidGames outfit take part in a rally in #Seoul, saying just like in the movie they too are struggling to make a living. They called on the government to improve workers' rights. Some reports say about 30,000 took part in the rally."
KCTU said in a statement, "About 80 youth union members dressed up in costumes that parody the Squid Game, which bitterly satirises the bare face of our society."
After the protests, Seoul city government filed a complaint against the unions for defying restrictions in place to curb Covid-19. As per the protocol only one person is allowed to hold protest in the capital city.