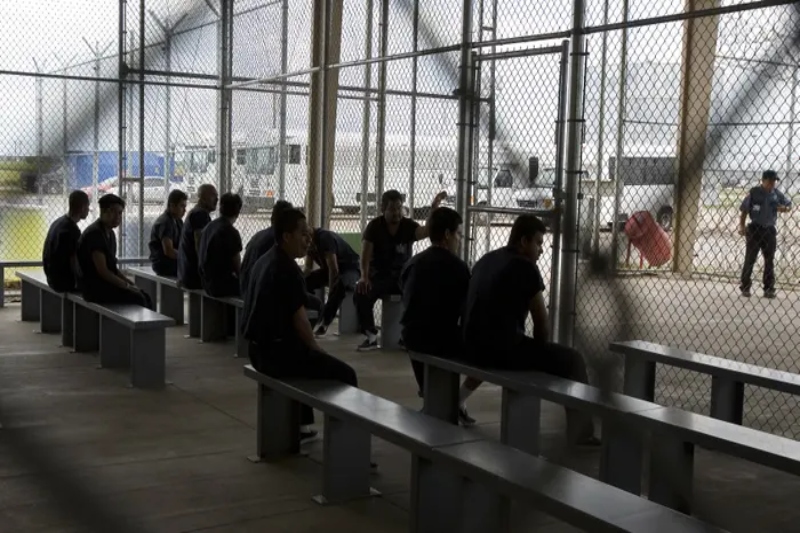 black migrant mistreatment in american correction centre exposed

United States – Horrific accounts have come to notice showing dog piling a black inmate by guards in a private detention center in Louisiana. This was apparently a black asylum seeker who was being manhandled and complaint of the fact that he couldn't even breathe.
The incident has unfolded in the LaSalle Correctional Center in the Louisiana town of Urania in February of 2020 and was retold by Brandon, the asylum seeker from Cameroon. Shortly before the incident happened, Brandon had been seen playing a video game in the recreational room of the correctional center where he had been locked up for five months. A Salvadoran man who had been watching over Brandon's shoulder started joking around and covering Brandon's eyes, prompting Brandon to lift up his hand to mock punch the man.
Related Posts
He was suddenly told he was being transferred to another facility and was then kept in solitary for three days. Before being transferred, he was handled mercilessly by the guards and almost choked in a dog string way. Detainees and immigration attorneys described a disturbing pattern of anti-Black racism at detention centers for migrants, according to a Human Right group's report that does such reporting repeatedly.
Brandon was actually tackled by six guards. The LaSalle Detention Center, is privately run by LaSalle Corrections. These guards kept Brandon pinned to the floor as one of them slapped handcuffs on him. They then yanked him to his feet and pushed him back against the wall. "Why are you treating me like I'm not a human being?" Brandon recalled asking them. The incident brings back memories of another black man who was manhandled on the American streets, and choked with one of the officer's knee to have cut his air supply and killed him. Soon later, the streets of America and worldwide burnt with the hashtag #blacklivesmatter.