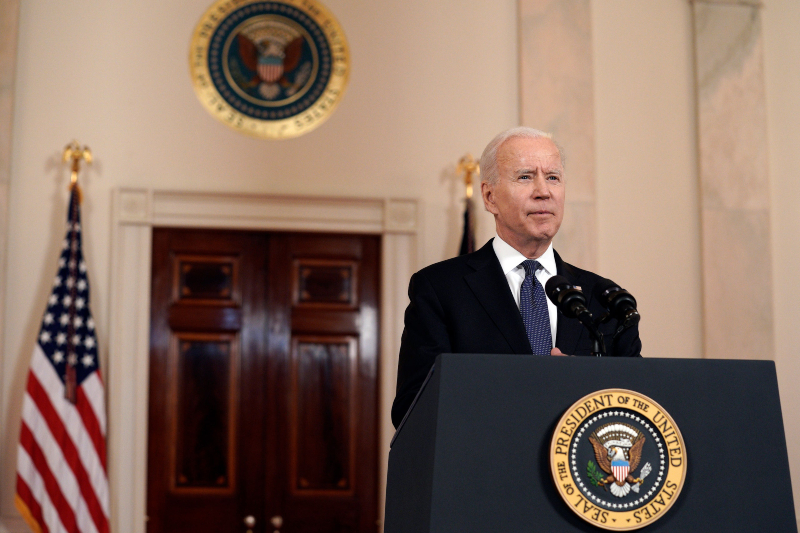 joe biden
US President Joe Biden said on Sunday that he will press his Russian counterpart Vladimir Putin on the matter of human rights during a summit in Geneva next month. Addressing a speech to mark the Memorial Day holiday, the US President underlined that during the meeting with his Russian counterpart, he would make it clear that "we will not stand by and let him abuse those rights."
As per a statement issued by the White House last week, Biden and Putin will discuss "full range of pressing issues" in Geneva Summit on June 16 with the aim of restoring stability and predictability to the US-Russia relationship. The Kremlin had also issued a statement, noting the two world leaders would discuss bilateral ties, issues related to strategic nuclear stability, and regional cooperation in combatting COVID-19 among other matters.
This development has come amid tense relations between Washington and Moscow over numerous issues including Russia's military intervention around Ukraine and cyberattacks against the US.
Related Posts
On April 13, Biden had a telephonic discussion with Putin over a number of regional and global issues. As per a White House, the US President had clarified that the US will act firmly in defense of its national interests in response to Russia's actions, including election interference and cyberattacks. Voicing concerns over the Russian military build-up on Ukraine's border and in Crimea, Biden had called on Putin to de-escalate tensions in the region.
The United States and other leading economies have sanctioned Russia over its actions against Ukraine, Crimea and human rights abuses in the country. Last month, the Biden administration imposed sweeping sanctions on Russia in a bid to punish Moscow over SolarWinds cyberattack, its interference in the 2020 US election, and its human rights abuses in Crimea among other critical issues. As part of the decision, the White House had blacklisted several Russian companies, barred America from buying sovereign bonds from Russia's central bank, Finance Ministry and national wealth fund, and ousted a number of Russian diplomats.
However, despite prolonging tensions between the two sides on various issues, Biden is working on establishing positive relations with Moscow. Earlier this month, the Biden administration lifted sanctions imposed on the company building the controversial Nord Stream 2 gas pipeline between Russia and Germany. In addition, the US removed sanctions on the company's executive, who is reportedly a close ally of Putin and leading the gas pipeline project. The move invited massive opposition from critics.