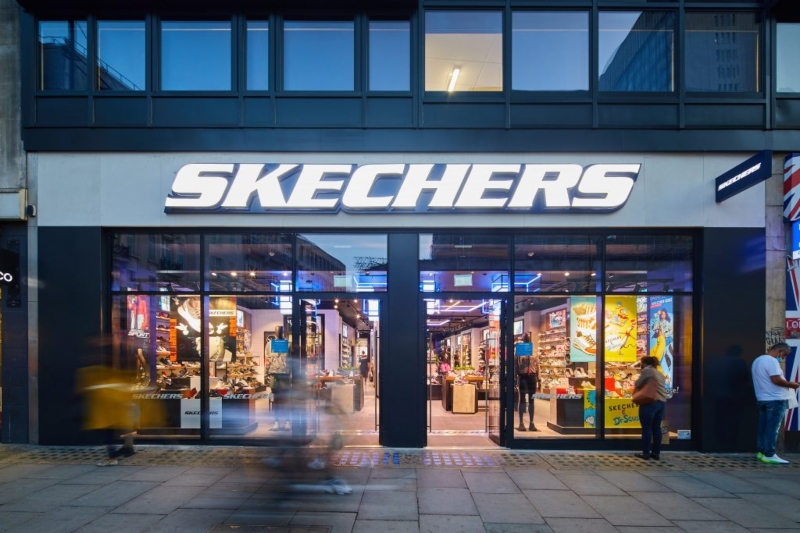 us shoe company skechers obliged to prove 'no forced labor' ahead of us discriminative act on xinjiang
Last updated on January 5th, 2023 at 06:21 am
Skechers commissioned an independent inquiry by a third party to appeal to US customs, which found no evidence to substantiate so-called forced labour charges.
The "Uyghur Forced Labor Prevention Act," signed by US President Joe Biden in December 2021, prohibits the sale of products created in China's Xinjiang region, claiming "oppression" of the Uygur and other minority communities.
The new rule establishes a "rebuttable presumption" that all items produced in Xinjiang, whether partially or entirely, are "tainted by forced labour." It also requires businesses to show that imports from the region are not created using forced labour through "clear and convincing proof."
The Uyghur Forced Labor Prevention Act will take effect on June 21. The Australian Strategic Policy Institute, an anti-China research group, produced a report in March 2020 accusing the Dongguan Lvzhou firm in South China's Guangdong Province of importing Uygur labourers from the Xinjiang region, and implying that the Uygurs were "forced" to work there.
Skechers products were recently seized by US customs, who claimed they were made by Dongguan Lvzhou Shoes Industry Co. Ltd and accused the company of employing Uygur "forced labour."
Skechers had hired an investigation firm to see if the Dongguan Lvzhou company had used "forced labour," and an anonymous source told the Global Times that the final report handed to Skechers stated that there was no evidence of discrimination in the company's treatment of Uygur or other ethnic minority employees, and that "no indication of Xinjiang workers being prohibited from returning to Xinjiang."
The Global Times discovered that Dongguan in Guangdong Province had partnered with Tumxuk in Xinjiang by searching public papers and resources. More than 1,000 labourers from Xinjiang have been engaged by Dongguan Lvzhou since 2013.
Related Posts
The habits and religious lives of these workers from the Xinjiang region have been highly respected, according to sources acquainted with the situation, and their legitimate rights as workers have been preserved. For them, the company established halal dining canteens. Skechers requested that Lvzhou be removed from the blacklist that the company's products be released as a result of the investigation.
Skechers had previously announced in March 2021 that it has arranged independent investigations into the "forced labour" claims and that none of its audits of the Lvzhou company from 2017 to 2020 had discovered any signs of forced labour or other labour conditions to be alarming. Lvzhou refuted all charges of forced labour, stating that the company respects workers' freedom, prohibits any sort of forced labour, and treats all employees equally and fairly.
Skechers isn't the only corporation that has been subjected to a self-review by the US government. According to Zhu Ying, a professor at Southwest University of Political Science and Law's Baize Institute, the Uyghur Forced Labor Prevention Act will increase firms' costs and push them to take Xinjiang out of their supply chains.
What the US is doing is forcing transnational corporations to decouple from China, and it is using its domestic laws to indiscriminately erect non-trade barriers, which are in violation of WTO rules and undermine market rules, according to Zhu. The US' moves also harm the interests of Americans, as their good old days of enjoying abundant products globally have passed them by due to inflation and rising living costs.
Furthermore, the law has nothing to do with justice or human rights; rather, it is a vehicle for US politicians to hijack US businesses' free-trade interests and force them to bow to the US' ideological predisposition. It also violates Americans' right to know the truth about China and Xinjiang. According to Zhu, it is blasphemy against true democracy, human rights, and free trade.
The move is also detrimental to the interests of American businesses. Because China produces 22% of the world's cotton, with 84 percent coming from Xinjiang, the US' prior measures and hype about banning imports from China's Xinjiang have harmed US textile industries.
Even within the United States, the law has sparked debate since it raises the cost of trade for some American businesses and has a wider influence on the global economic chain. Due to variations in each other's versions, the Senate and the House had multiple rounds of "battles."
Companies like as Apple, Nike, and Coca-Cola are said to have lobbied the US Congress to undermine the act.
According to media reports, Sheila Carey, a consul at the US Consulate General in Guangzhou, and her colleague Andrew Chira told guests at a reception in 2021 that the US government hoped their businessmen would "understand" that using the Xinjiang issue to hype up so-called forced labour, genocide, and human rights abuses is a "tug of war" with China, and a "effective tool" for achieving the ultimate goal of getting China "complete".
In response to the remarks, Chinese Foreign Ministry spokesman Zhao Lijian has twice challenged the US to provide an explanation, pointing out that this isn't the first time US officials have revealed their true intentions.