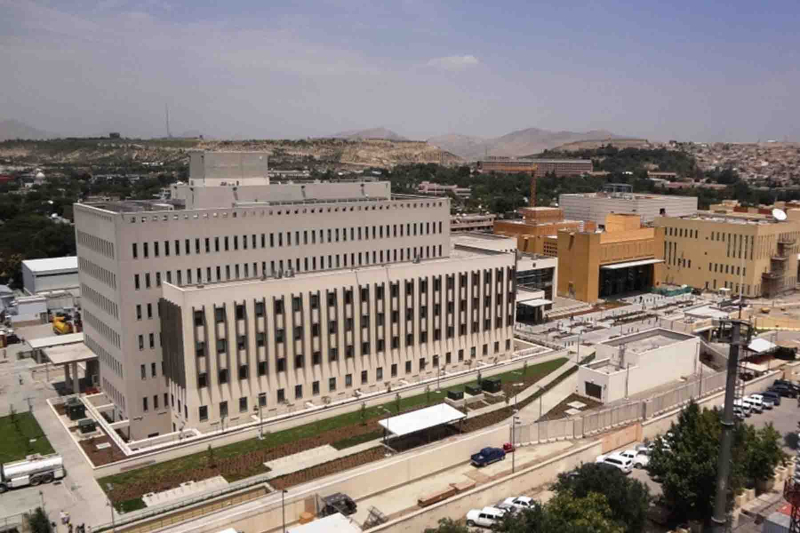 us embassy in afghanistan
Last updated on July 8th, 2021 at 08:31 am
Amid massive surge of Covid-19 cases in its employees, the US Embassy in Afghanistan has ordered near complete shutdown.
The announcement was made by US embassy in Kabul on June 17, 2021 that is already facing uncertain future situation due to US troops withdrawal from Afghanistan. The embassy has ordered remaining staff members to go into isolation in an attempt to prevent further spread of coronavirus infection. The Covid-19 infection has already killed one person, sent at least 114 people into quarantine and led medical evacuation of many people.
In a notice to its employees the embassy said that all group activities like meetings have been banned as military medical facilities' intensive care units in Afghanistan are operating at full capacity. Temporary units have been established to take care of oxygen dependent Covid-19 patients. The restrictions are to remain into effect until cases spread is controlled. Violators would be removed from Afghanistan on next available flight, staff has been warned. 95% of people affected have either not been vaccinated or fully vaccinated against Covid-19. Notice also has urged all staff members to take advantage of vaccines available in embassy.
Related Posts
Acting US ambassador, Ross Wilson, said in the notice, "We must break the chain of transmission to protect one another and ensure the mission's ability to carry out the nation's business. Restrictions will continue until the chain of transmission is broken. We are all in this together and rely on your cooperation during this difficult time."
The announcement notice was also extended to journalists and others by the American Foreign Service Association, the union representing U.S. diplomats. "At a time when the US military withdrawal is accelerating, attacks on Afghan and coalition forces are intensifying and the US is seeking to establish a stable and positive presence in Afghanistan after the withdrawal, the damage to our national security and national interests is potentially grave," the association said.