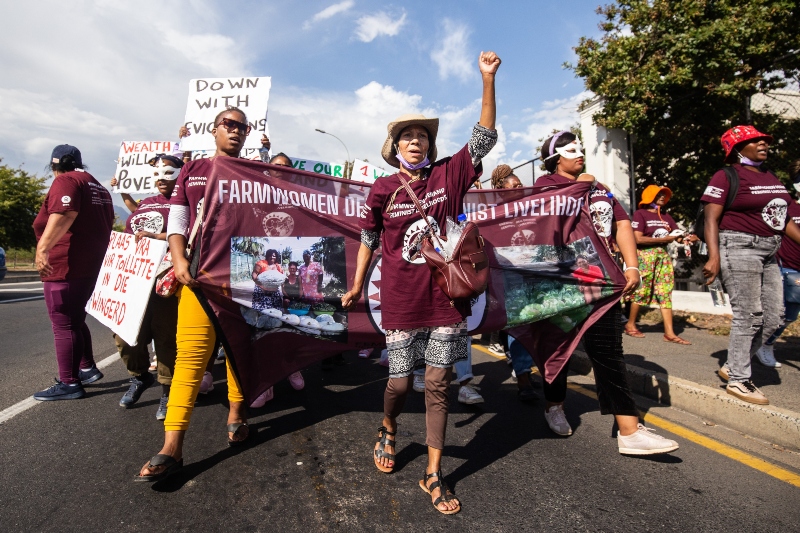 farm women workers demand action against distell's suppliers that violate workers' rights

South Africa – Nearly 150 farm women workers marched to the offices of Distell in Stellenbosch, South Africa. They demanded strict action against Distell's suppliers that disregard human and labour rights.
Distell is a multinational brewing and beverage company in South Africa. The company produces many well-known alcoholic drinks like Savanna cider, Amarula, Klipdrift brandy and a range of wines.
Reportedly, women who live and work on farms across the Western Cape, experience labour rights violations. According to the Women on Farms Project (WFP), they also experience a lack of sanitation, forceful evictions, and food insecurity.
WFP coordinated the march, which took place last Wednesday. WFP director, Colette Solomon, said that Distell's seasonal workers who produce and harvest the produce are bracing themselves for tough months due to less salary.
Related Posts
The company had recently announced "record growth" at the end of its financial year. However, the workers are facing difficulties due to labour rights violations. The workers are facing food shortages at home. They are even unable to feed their family. Many workers reportedly live without electricity, water, or toilets.
The WFP wrote a memo to Richard Ruston, CEO of the company. According to the memorandum of WFP, the farm women demanded that Distell prevent and mitigate labour rights violations and housing rights violations. The workers asked the company to provide WFP with a list of all its supplying farms. A Distell representative reportedly accepted and signed the memo. WFP also posted the memo on its Instagram account. They reportedly made five demands to the company.
Reportedly, a worker said, "We work in the vineyard, we grow it, we prune it, we work with the fruit, but we get the least money." According to the city press, many women working on farms are still paid below the minimum wage and are at a greater risk of being evicted from their homes in Stellenbosch.