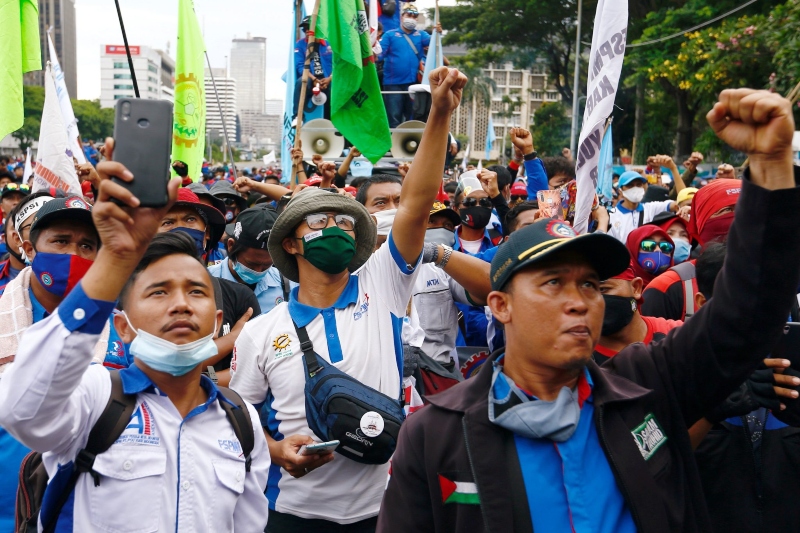 scores of workers protest against omnibus jon creation law in indonesia

Indonesia – On Friday, the President of Confederation of Indonesian Workers Trade Union (KSPI), Said Iqbal announced that thousands of laborers, farmers, fishermen, migrant workers, and domestic workers will be protesting demanding House of Representatives (DPR) to withdraw the Omnibus Job Creation Law. The various labor unions' representing migrant workers staged demonstrations on the omnibus law in front of the Parliament (DPR) building in Senayan, Central Jakarta.
"Thousands from across the Greater Jakarta Area will arrive at the House to reject the Omnibus Law. Thousands of people will also conduct similar acts across 30 provinces," Iqbal said on Friday. "The DPR and government have again approved the Omnibus Law. It means they agree to 'outsource' workers for life. It means they agree to cheap labor with low wages," he added from the command car.
Related Posts
"Similar rallies are also simultaneously conducted in dozens of other provinces, such as East Java, Central Java, North Sumatra, Riau Islands and South Sumatra," Iqbal stated.
During the rally, workers voiced their four demands. The first was declaring their rejection of Job Creation Act; second demand by workers stated that they wanted ratification of the Bill on the Protection of Domestic Workers (RUU PPRT). For the third demand workers sought for a revision to the Governor's decree on the District/City Minimum Wage (UMK) in 2022, for which they sought an increase. The fourth and last demand of protesting workers was revision to the Corruption Eradication Commission Law (UU KPK).
The Confederation of Indonesian Labor Unions (KPBI) chairperson Ilhamsyah had predicted that around 10,000 people will be present in the rally. "They will come from the KSPI, KPBI, KSPSI, Indonesian Farmers Union, Jala PRT, and a plethora of others," he had said.
The Job Creation Act (Indonesian: UU Cipta Kerja), officially called Law Number 11 of 2020 (Undang-Undang Nomor 11 Tahun 2020, or UU 11/2020), is a bill that was passed on 5 October, 2020 by Indonesia 's People's Representative Council (DPR). The aim of law was to create jobs and raise foreign and domestic investment in the country by reducing regulatory requirements for business permits and processes for land acquisition.