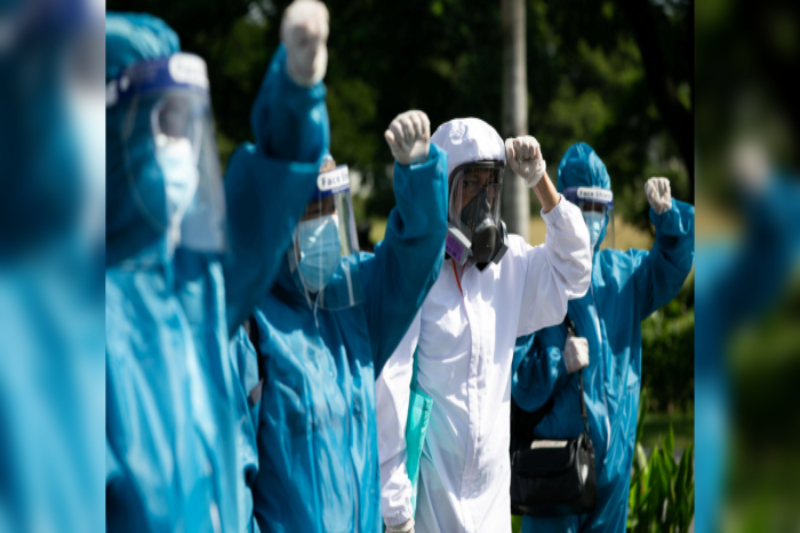 philippines health workers
Last updated on May 10th, 2021 at 08:46 am
As the second COVID-19 wave renews pressure on the healthcare system in the Philippines, medical frontliners are raising concerns about the deteriorating conditions of health staffers and medical practitioners in the country.
On Health Workers' Day on May 7, the Alliance of Health Workers (AHW) conducted a campaign to counter the Philippines government's inefficiency to fulfill the needs of the health workers as they fight to combat the COVID-19 crisis in the country. According to the AHW, Filippino health workers are struggling with several challenges including low wages, inadequate social protection, and unpaid benefits for more than a year now.
"We, health workers, are being called as the 'modern-day heroes' and yet our voices are not heard," Salome Ejes, AHW-Philippine Heart Center Vice President, said.
She stressed the health workers and medical practitioners play an important role and contribution in providing necessary health services to the Filipino people. However, essential PPEs, medical equipment, medicines, healthcare supplies and quarantine facilities are insufficient in the country's hospitals.
Related Posts
Fearing the virus, several health workers have resigned and filed for early retirement to protect their families and communities, the group added.
"As the health care system is now on the brink of collapse, health workers are becoming more and more depleted, demoralized, and burned-out," AHW said.
On Friday, health workers from various hospitals carried out a protest from Welcome Rotonda to Mendiola to voice their concerns to the government. Last month, the AHW sent a formal letter to President Rodrigo Duterte for a meeting to discuss the problem of health workers in the country. Health workers also expressed dismay with President Duterte's lack of concern over their issues.
"The two meetings we had with the [Department of Health] were unfruitful. No substantial gains were achieved to the pertinent issues we raised," Ernesto Bulanadi, President of Tondo Medical Center Employees Association-AHW, said.
The AHW is demanding the government to provide proper compensation and benefits to medical frontliners. In addition, they are called for the government to improve the country's healthcare system in order to protect health workers as they continue to work towards combating the surge in COVID-19 infections.
The group is also asking for an adequate supply of medicines, PPEs and other medical equipment for both medical workers and patients. Health workers in the Philippines have been overwhelmed by the continuous rise in COVID-19 cases. The Philippines government has failed to proactively handle the COVID-19 crisis, resulting in the collapse of the healthcare system. Taking cognisance of the matter, Amnesty International, last month, called on the government to take specific measures to protect those affected by the pandemic, including health workers, without further delay.