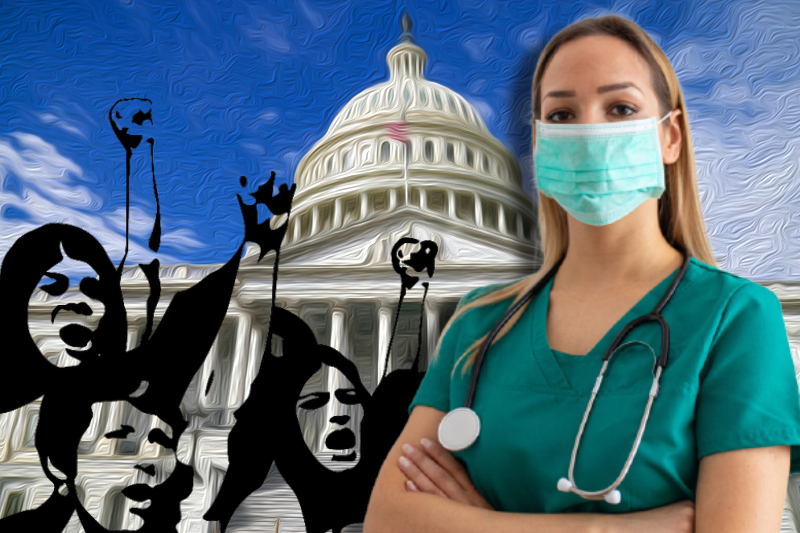 nurse
Last updated on May 13th, 2021 at 05:17 am
Hundreds of nurses and healthcare workers gathered outside the Wisconsin State Capitol in Madison on Saturday to raise their concerns about unfavourable working conditions in hospitals. On the occasion of Nurses Week 2021, SEIU Healthcare Wisconsin, the largest union for healthcare workers in the state, carried out a rally at the Capitol to honour the sacrifices made by frontliners during the COVID-19 pandemic.
During the rally, nurses voiced their demand for proper staffing in hospitals and adequate personal protective equipment (PPEs) to take care of patients amid the pandemic.
Earlier, UW Health nurses issued a statement, noting that its leaders and staff nurses have been working continuously to meet the needs of patients in compliance with state laws on collective bargaining. They have called on the hospital administration to acknowledge their demand for a union and a seat at the negotiations table. UW Hospital nurses have been making all possible efforts to unionise in Madison since late 2019, without a positive outcome.
"It takes a heavy mental toll trying to work so hard to keep people safe when you're not given what you need," UW Health Nurse Ashley Campbell said during the rally.
Related Posts
Wisconsin Governor Tony Evers, Mayor Satya Rhodes-Conway, Attorney General Josh Kaul, and Lieutenant Gov. Mandela Barnes were among some of the speakers at the event, extending their support for concerns of nurses and frontline workers in the state.
"All across the state from Kenosha to Superior, nurses have been showing up to work despite fear and anxiety," State Rep. Tim McGuire of Kenosha said, in his address at the rally.
According to a recent report by the Wisconsin Hospital Association, healthcare workforce in the state is drained and, in some cases, going through trauma from working long shifts through the pandemic.
In a similar event, dozens of BID-Plymouth nurses carried out a rally, calling for safer staffing levels and a fresh contract with the hospital. Members of the Massachusetts Nurses Association urged the community to support their cause and call for a just agreement with the hospital management. Holding signs of "Safe Staffing Saves Lives" and "Support Your Local BID Nurses", healthcare workers conducted the rally on the lawn of Town Hall.
Significantly, state and local leaders also joined the rally to show their support with the nurses. As per a report, negotiations between over 400 registered nurses and hospital administration for a fair new contract have been going on since October 2020.
Notably, unions and healthcare workers groups across the United States have been raising demands for better working conditions, benefits and higher pay as they treat patients during the global health crisis.