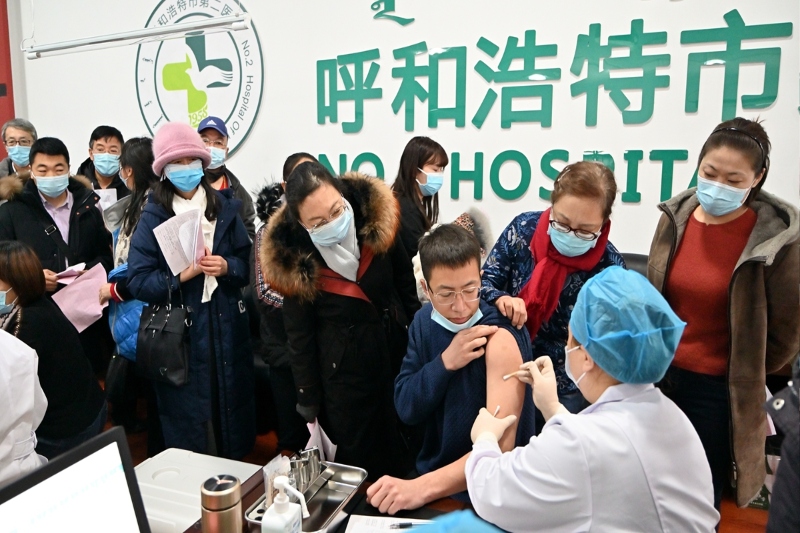 Philippines investigates
Philippines investigates: Like rest of the developing nations, has been eagerly waiting to obtain the covid-19 vaccine doses to immunise a significant chunk of its population. The country reported second-highest number of coronavirus infection case in Southeast Asia. The official reports stated that it would take several months for the vaccine to arrive in the country. The country has been aiming to acquire about 80 million vaccines from pharmaceuticals including AstraZeneca Plc., Novavax Inc. and Pfizer Inc. The deals are expected to be finalised within this month, with delivery to be made in the second quarter.
Despite the wait, one segment of the country's front liner workers have already received the vaccine. It included President Rodrigo Duterte's security team, which apparently took the vaccine last week. Though it has not been revealed which vaccine and how was it obtained.
The unauthorised intake of the vaccine, without the approval of the country's health department raised several questions. On Monday, Health Secretary Francisco Duque, in a televised briefing, said that the Food and Drug Administration has been working along with government investigators and customs officials to look into the illegal entry and consumption of the unregistered vaccines.
When asked the Philippine embassy in China, which has been leading the negotiations and coordinating with vaccine developers there, said that even they were oblivious to the supply and how Duterte's security officials accessed the vaccine. Philippine Ambassador to China Chito Santa Romana said he had no idea about how vaccines developed by China state-controlled Sinopharm reached the Presidential Security Group (PSG).
"I have no knowledge about it. We're also curious to know but unfortunately we were not involved," he said on Monday, January 4, during a news briefing. "We're not in the loop in this matter," Romana added.
The lack of timely and equitable availability of vaccines throughout the globe created several pockets of black market, from where the early access to the vaccine is believed to to be made.
Many even accused Duterte's spokesman, Harry Roque, of dogging the questions and hiding the required explanation for the secret access to the vaccine. Roque said, "Details of PSG vaccination 'immaterial'". He added that what was important was the intent as the security team gambled with their lives to protect the President. In Monday media briefing, Roque, added the president's security team would face the investigation and highlighted that PSG, the group led by commander Brigadier General Jesus Durante III, was ready to face "any punishment" for its actions. He emphasised that though in his opinion, he didn't believe that PSG broke any law regarding use of health products, Roque said, "I don't think it was a mistake to protect the President.