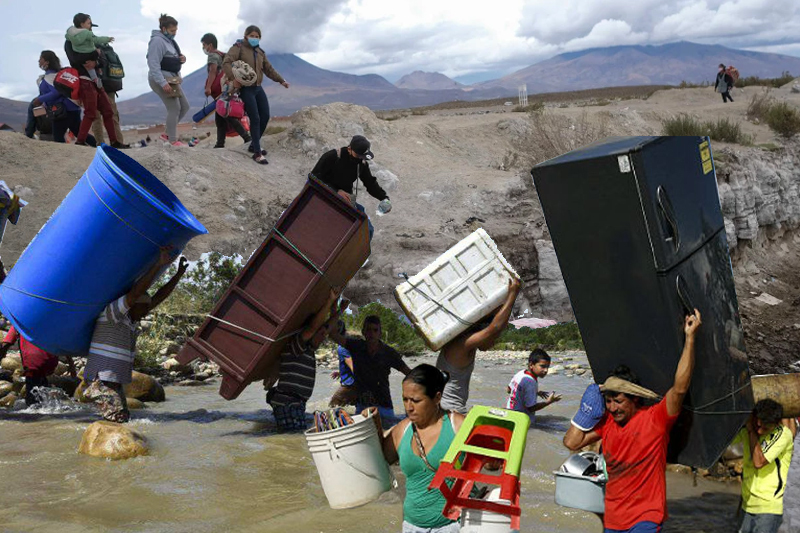 over 6.8 million have left venezuela since 2014 and exodus grows

Venezuela – About 6.8 million Venezuelans fled their homeland after a severe economic crisis hit the country of about 28 million in 2014. Most have gone to neighboring countries in Latin America and the Caribbean. More than 2.4 million people live in Colombia.
This massive migration has slowed as the pandemic has slashed economic opportunities and made travel more difficult in the region, and Venezuela's socialist government has enacted reforms that have slowed the country's economic decline and created some semblance of a revival.
The United Nations estimates that some 150,000 Venezuelans have returned to their homeland in the midst of the coronavirus pandemic, with some host countries reporting a decline in the total number of Venezuelan immigrants for the first time in years.
Since November, at least 753,000 Venezuelans have left their country for either Latin America or the Caribbean, according to data from host countries, even as President Nicolás Maduro's government continued to tout economic growth. Colombia, which hasn't reported an update since November, recorded a jump of about 635,000 between that month and August.
The Panamanian government said 45,000 Venezuelans entered its territory this year, up from 3,000 last year.
Keep Reading
The lack of diplomatic relations between the U.S. and Venezuela means the U.S. has been unable to expel Venezuelans under pandemic-era rule on the U.S.-Mexico border. The US has allowed some Venezuelans to apply for asylum, and in July, US President Joe Biden's administration extended temporary protection status for Venezuelans in the US from March 8, 2021, protecting about 343,000 people from deportation for another 18 months.
However, the future of Venezuelans seeking asylum in the US is fraught with pressure from Republican officials who have seized on the growing number of migrants arriving at the border to criticize Biden's policies on migration and border security.
Data compiled by the Inter-Agency Coordination Platform for Refugees and Migrants, which includes about 200 humanitarian organizations, shows that governments have registered the arrival of 753,000 Venezuelan migrants, refugees and asylum seekers in 17 Latin American and Caribbean countries since November.
The platform data also shows that the total number of such Venezuelans in these countries decreased slightly last year from 4,620,185 in January to 4,598,355 in July.