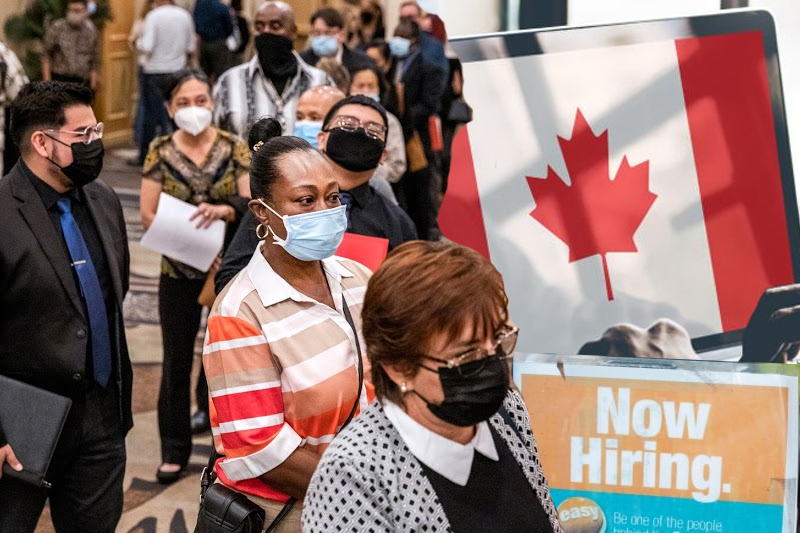 canada's job market goes gloomy as it loses 39,700 jobs in august

Canada – The employment levels in Canada unexpectedly fell for the third consecutive month in August, losing a net 39,700 jobs, entirely in full-time work, according to Statistics Canada.
The jobless rate climbed to 5.4 per cent because of the biggest increase in the number of unemployed since strict Covid measures were imposed in the country in January. Employment in the goods-producing sector fell by a net of 13,900 jobs. The services sector was down by a net 25,800 jobs, particularly in educational services. The public sector in Canada shed 27,600 positions, the bulk of August's job losses.
Earlier, economists in a Bloomberg survey had expected an increase of 15,000 jobs in August. Analysts surveyed by Reuters also expected the same numbers. Labour force participation rates increased 0.1 percentage points to 64.8 per cent.
According to analysts and media reports, the decrease in employment rate and higher jobless rate may show that Canada's labour force is rebalancing as the Bank of Canada's aggressive rate hikes starts to cool economic growth and slow demand.
Keep Reading
Andrew Grantham, an economist at the Canadian Imperial Bank of Commerce, said in a report to investors, "The weak headline figures may have the Bank of Canada questioning its apparent commitment to even higher interest rates."
Meanwhile, according to a new Fraser Institute report, the private sector, including self-employment, witnessed almost no net job creation over the past two years in Canada. Between February 2020 and July 2022, private sector job growth in the country remained almost stale, at 0.4 percent. According to the report, the proportion of adults over the age of 15 working in the private sector decreased in recent months. 
Zabeen Hirji, executive adviser for the future of work at Deloitte Canada, said that many private sectors have yet to fully recover from the effects of the Covid-19 pandemic.