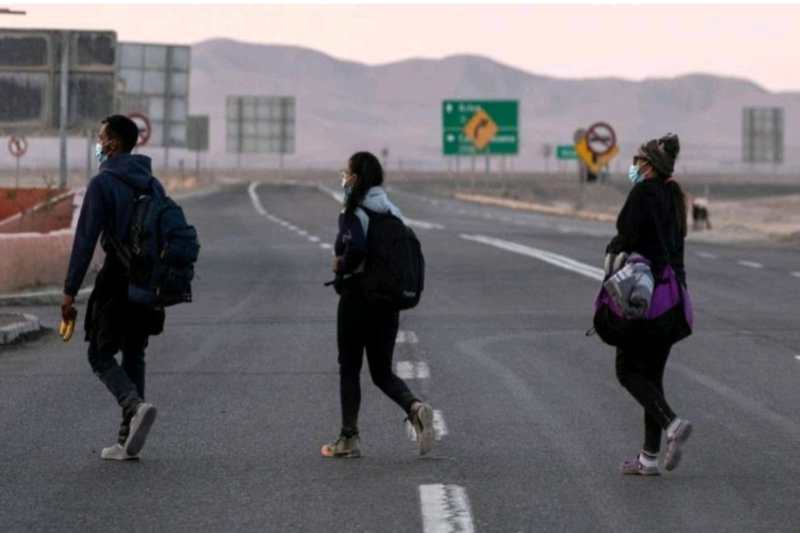 chile bolivia border
A large number of migrants are crossing the Chile-Bolivia border, braving the harsh terrain of Chile's Altiplano, an area of inland drainage in Andes mountain range, on foot. This is enough for the activists to raise a red flag against an impending humanitarian crisis.
During Covid-19 pandemic onset, as a precautionary measure Chile had closed down its borders. But this didn't stop from irregular crossings of migrants across the border, which have surged according to officials. These migrants are majorly from Venezuela who are escaping the Latin American country due to ongoing political and economic instability and turmoil.
The start of year has specifically seen a surge in crossings as Chile has received at least 200 migrants per day. These people have crossed arid terrain of 3,690 meters above sea level, with temperatures reaching bone-chilling level of -8C. Local authorities have been struggling with incorporating these migrants. Border town of Colchane where there are no pharmacies or supermarkets, and receive intermittent electricity has sheltered migrants under tarps made of plastic. Colchane sits three hours from closest city. The conditions led to death of two migrants, one Venezuelan and one Colombian, from hypothermia in February.
Related Posts
In late January, after 1,600 people entered the Colchane town over a single weekend, its mayor Javier García called the situation as "one of the worst humanitarian crises".
The action of authorities of refusing to open public buildings and spaces like town halls and gyms to provide shelter and accommodate migrants has been hugely criticized by Amnesty International and Chile's National Institute of Human Rights.
The statistics indicate Chile to have received approximately 470,000 migrants from Venezuela, which is the third largest group after Colombia and Peru. The government of Chile has deployed its military for border patrolling along with coordinated planes with intention of sending back migrants. In February, a high-profile deportation was launched by the government that led to expulsion of 86 people on a military plane to Caracas, and another 52 by bus.
The 'deportation event' was tweeted by the military showing each migrant being escorted by a police officer and dressed from head to toe in protective gear. The whole unfolding was criticized by activists who accused government of treating migrants as criminals.
Vanessa Gonzalez of the National Migrant Assembly in Chile said, "This is a profound humanitarian crisis that has been criminalized by the government. We need to create a humanitarian plan that includes the rights of these people, rather than frame immigration as a problem."
In its defense the health department of Chile said that these measures are mandatory for anyone entering Chile due to ongoing pandemic crisis, who have to undergo 14 day mandatory quarantine. But Gonzalez have called it more of an excuse to detain and later expel these migrants on pretext of Covid-19 pandemic.