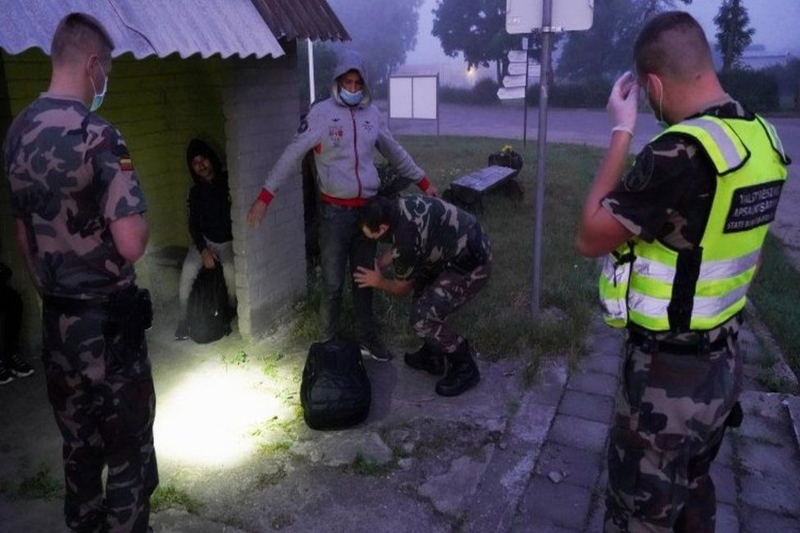 lithuania belarus border
Lithuania is all prepared to set up a barrier at its border with Belarus as well as deploy troops to stem the massive influx of illegal migrants. Since June 1 over 1000 migrants have been detained after crossing the 679 km long border, said Prime Minister Ingrida Simonyte. The EU member state has also accused Belarus of allowing foreign migrants to fly in and then go to border.
Relations between the two nations worsened when Belarusian dissident Roman Protasevich and his girlfriend Sofia Sapega were arrested in May while they were flying from Greece to Lithuania. Their flight was forcibly made to land in Minsk over a fake bomb threat. The pair was arrested as soon as their Ryanair flight was landed.
On Wednesday during news briefing in capital Vilnius, prime minister Simonyte announced that an "additional barrier" was to be built on border with Belarus. She said, "This would be a certain sign and a certain deterrent to organisers of the illegal migration flows." Ms Simonyte added, "To assist our border officers, our army forces will be used to increase the number of people physically guarding the border."
Related Posts
Last year, Lithuanian border guards had detained 81 illegal migrants crossing from southern neighbour Belarus. This is a far lower number as compared to the migrant influx past few weeks. Simonyte has accused Belarus, citing at least one migrant who reached Lithuania from Belarus, of offering flights to migrants to fly to Minsk. "There are travel agencies, direct flights that connect Minsk with Baghdad [Iraq's capital] for example, and there are agencies both in Belarus and other countries that operate and attract 'tourists' to Minsk," Ms Simonyte said.
Belarus leader Lukashenko has repeatedly said that the country won't be stopping influx of illegal migrants from abroad who want to finally reach EU nations. "If some think that we will close our borders with Poland, Lithuania, Latvia and Ukraine and become a camp for people fleeing Afghanistan, Iran, Iraq, Syria, Libya and Tunisia they are mistaken," Lukashenko said on Tuesday. "We won't hold anyone, they are coming not to us but to the enlightened, warm and cozy Europe," he added mockingly.