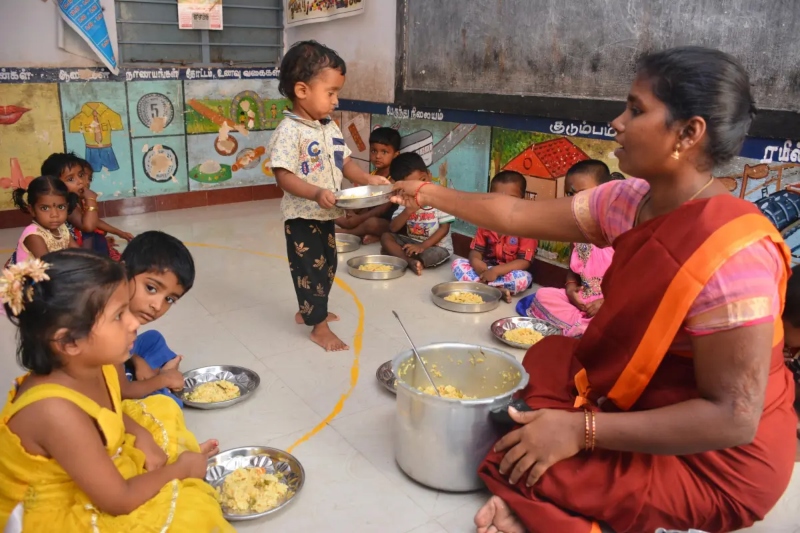 children deprived of midday meals in anganwadis

India – Multiple instances are coming to light about anganwadi children not being served cooked meals as its promised and a part of the government scheme. Cooked meal facilities had become non-existent around the Covid-19 lockdowns.
Aanganwadi free meals truly cater to poor children, and has remained an incentive for parents to send their children to school for education. These primarily cater to children between the age group of 3-6 years.
The caretakers and workers at these facilities are now demanding that the meals should now be started as kids look forward to the nutritious meals they used to get here. The organisations cooking and serving these meals too are unhappy. Maharashtra Rajya Mahila Bachat Gat Poshan Aahar Puravtha Sanghatana, an association that represents them, has confirmed that its officials are not serious about restarting the project.
Related Posts
In March, apparently, the association was directed to engage women self help groups to start sanitizing their premises. But since then, there has been no movement whatsoever or any other intimation.
The Central government has already passed the buck to the State government; in this case Nagpur.
The letter of intimation was signed by Suneet Negi, undersecretary at the Ministry of Women and Child Development, said, "The anganwadi services, under the umbrella of integrated child development service scheme, is a centrally sponsored scheme. And the administration, management and monitoring regarding implementation of the anganwadi service scheme, including providing supplementary nutrition to the beneficiaries, are being done by the state governments concerned.' It seems the State governments are taking things too slow. In another incident, Anganwadis under the Vadodara Municipal Corporation (VMC) and the Surat Municipal Corporation (SMC) have stopped providing meals to nearly 36,000 children since the beginning of April due to a delay in the procurement of edible cooking oil by the government.