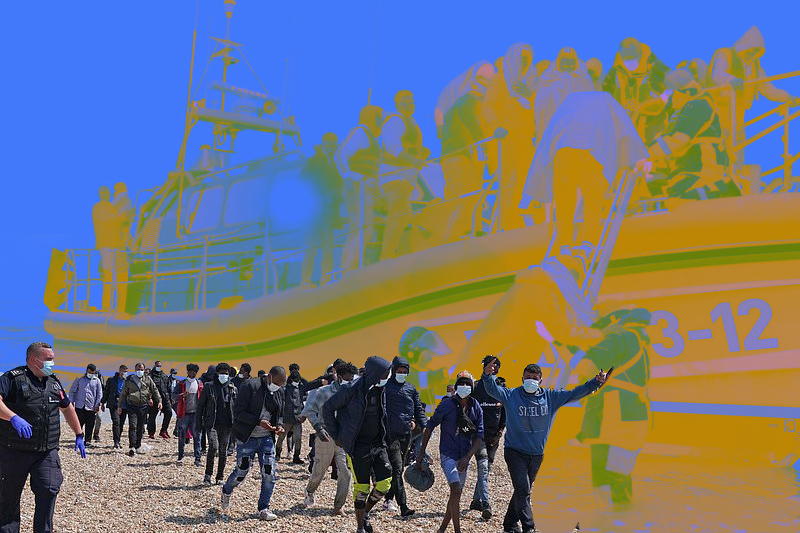 channel migrants
UK – More than 1,100 migrants crossed the English Channel in small boats in one day for the second time this month. The Department of Defense confirmed that 21 boats carrying 1,150 people were intercepted on Thursday, the third-highest daily figure this year.
Government figures show that 31,699 people made the crossing in 2022. The number of arrivals prompted officials to set up special tents in Dover. Existing facilities for those arriving at the Port of Kent have been overwhelmed by those awaiting processing.
Last week, the number of people who crossed this year exceeded the total for 2021. In recent years, the number of small boat crossings has steadily increased.
This month, 6,625 people made the trip. On September 4, 1,160 migrants arrived in the UK in small boats. The largest number of arrivals in one day was on August 22, when 1295 people made the crossing.
Keep Reading
A government spokesman said the continued rise in border crossings is "a clear abuse of our immigration laws, risking the lives of vulnerable people and funding immoral criminal gangs." He said: "Despite the lies they have been sold by the people smugglers, migrants who travel through safe countries to illegally enter the UK will not be allowed to start a new life here."
On April 14, then-Home Secretary Priti Patel signed what she described as a "world's first" agreement with Rwanda, under which the East African country would accept migrants who the UK believes arrived "illegally" and are therefore unacceptable under new immigration rules. However, the first deportation flight, scheduled to take off on June 14, was halted due to legal issues.
Several asylum seekers, the Union of Public and Commercial Services, and the charities Care4Calais, Detention Action, and Asylum Aid are involved in legal cases with the Home Office as they challenge the legality of the policy.