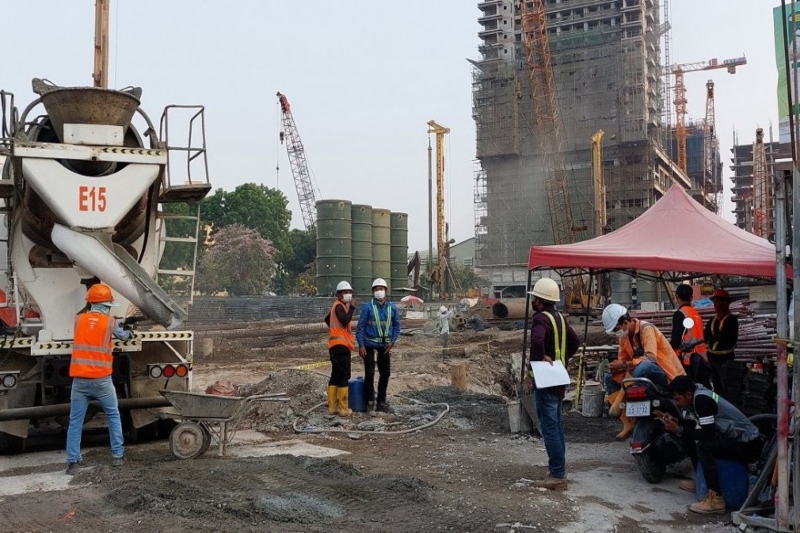 construction workers face rampant violation of their rights

Cambodia – Even as unions and labour organizations in Cambodia's garment industry have made relevant developments in terms of protecting workers' safety and rights, those employed in informal and subcontracted industries, such as the construction sector, continue to struggle with limited facilities and restricted rights at their disposal. With heavy reliance on foreign direct investment, Cambodia's construction and real estate sectors constitute 15 percent of the total GDP.
Across the construction sector in Cambodia, workers have a shortage of opportunities to organize a union. According to Sou Chhlonh, vice president for the Building and Wood Workers Trade Union Federation of Cambodia (BWTUC), workers face challenges in terms of increased debt and fear of losing their jobs. In international projects operating in the country, both Cambodia and migrant workers struggle to demand representation and adequate pay from their employers, making it harder for unions to hold foreign firms responsible for violating labour rights in the country.
Related Posts
The 8,000-member BWTUC has also been trying to expose deep-rooted child labour and debt bondage practices in the brick kiln industry. However, it still faces substantial challenges in helping workers in paying back their heavy debts and emerge from the crisis.
Chhlonh added that construction workers also face heightened safety risks. In June 2019, 28 workers died after a skyscraper construction site collapsed in Cambodia's coastal boomtown of Sihanoukville. About six months later, 36 people died after another construction site collapsed in Kep province.
While the government has appointed more than 300 construction inspectors, their efforts have been inadequate in ensuring necessary protection for the workers.
A peaceful strike called by female workers of Labor Rights Supported Union (LRSU) of NagaWorld Workers to secure safety rights earlier this year was met by force, harassment and intimidation at the hands of the authorities. Several rights groups have raised concerns over the violation of rights of women workers in Cambodia, with many women subjected to physical assault and harassment by employers and authorities. Speaking with the media, Cambodia's Labour Ministry spokesperson Heng Sour pointed out that he is aware of the challenges faced by construction workers in unionizing and obtaining necessary rights for themselves due to their subcontracted as well as seasonal status.