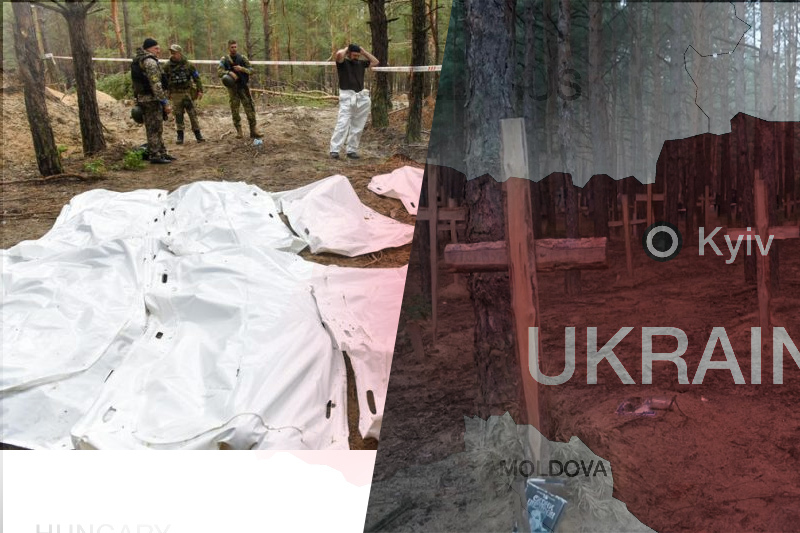 bodies found at mass grave site in izyum
Ukraine – The Ukrainian Defense Ministry said at least 440 "unmarked" graves have been discovered in the city in recent days. President Volodymyr Zelensky said on Friday that some of the bodies found in Izyum showed "traces of torture", accusing Russia of what he called brutality and terrorism.
Even torrential rain couldn't erase the smell of death in the pine forest in Izyum on Friday afternoon as Ukrainian investigators made their way through a mass grave site unearthed in the eastern Ukrainian city after it was taken over by Russian forces.
Zelensky published a photo of the ongoing exhumation of bodies at a mass grave near the city of Izyum. In the accompanying text to the photo on his Telegram channel, Zelensky wrote: "The whole world should see this. A world in which there should be no cruelty and terrorism. But all this is there. And its name is Russia."
Keep Reading
In April, Izyum came under intense Russian artillery fire. The city, located near the border between the Kharkiv and Donetsk regions, became an important center for the invaders during the five months of occupation. Ukrainian forces regained control of the city on Saturday in a strategic strike against a Russian military offensive in the east.
Ukrainian Parliament Commissioner for Human Rights Dmitry Lubinets said in a video message from the website that "there is a whole family right next to me… This is a young family… The father was born in 1988, the wife was born in 1991, their little daughter was born in 2016." According to him, local residents told investigators that the family had died as a result of an airstrike by Russian aircraft. "Also we saw here a mass burial of servicemen of the Ukrainian army. The way they were buried – you will see evidence that their hands were tied, they were killed at close range," Lubinets said.