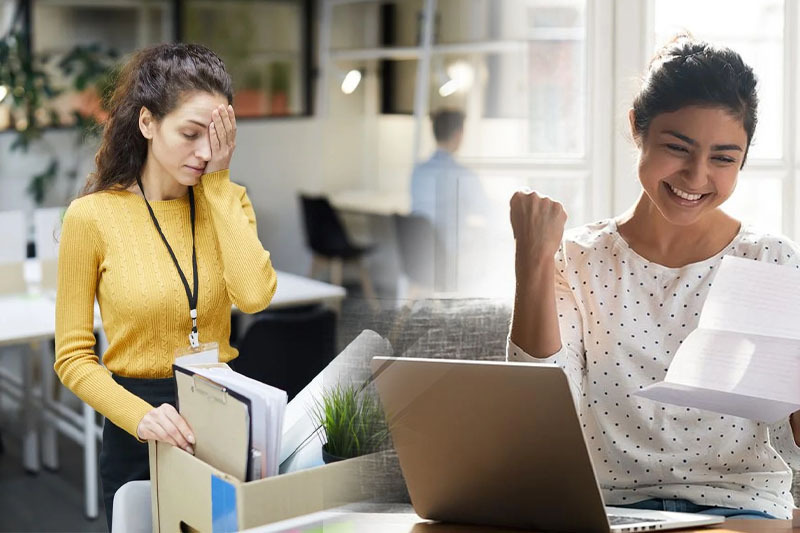 12 practical steps after losing your job
Last updated on August 14th, 2023 at 07:34 am

Global – Work is an important part of human life. First of all, this is a way to provide yourself with finances, but besides this, it is also a place of social contact. Therefore, the loss of a job for a person often becomes a cause of stress and self-doubt. Research tells us that losing a job can have a detrimental effect on your mental health. One study found that the unemployed were more upset, less satisfied with their lives, and more likely to report mental health problems than the employed. In the midst of the coronavirus pandemic, there was a sharp jump in the unemployment rate. Unemployment rose to a record high of 14.7%.
But on the other hand, it can be a blessing in disguise. This may be exactly what you need in your career to pursue your goals and dreams. What should you do after you lose your job and where should you start? Let's discuss this topic!
1. Identify your emotions
Whether you lost your job suddenly or suspected that everything would end like this, it does not matter. After all this, you definitely experience a diverse range of emotions. So stop, take a breath and define these emotions. What are you feeling? Is it resentment or anger? write down all those feelings that are mixed up in you.
2. Do the inner work
The science behind Inner Work speaks for itself: it's good for you. It helps you focus better and can encourage innovation and creativity. But Inner Work looks different for everyone. So find something that suits you – meditation, journaling, exercise, or art. Just find what you like to do.
3. Tell people
Let's be honest, job loss is not something you want to tell people. But on the other hand, this is a good opportunity. First of all, you will receive the necessary support from loved ones, but on the other hand, you will declare that you are actively looking for a new job.
4. Make a budget
One of the biggest stressors when losing a job is money. You've been getting a regular paycheck all the time, and suddenly you're not. Even if you receive severance or unemployment benefits, you need to check your finances. You will most likely need to make adjustments to your expenses.
Related Posts
5. File for unemployment
This may not apply to every job loss situation, but it is worth looking into. First, determine if you qualify for unemployment benefits. If you lose your job through no fault of your own, you must qualify.
6. Look into health insurance options
Like unemployment benefits, health care also varies by country (and state). You may be entitled to health care for a limited period of time even after you leave the company. If not, explore the health care options in your state or country.
7. Learn a new skill
Like many people after the mass layoffs after the pandemic, you could try to learn something new. Losing your job can be an opportunity to retrain or upgrade your skills, especially if you're thinking about turning your career around. Time does not stand still, over the past decade, technology has developed greatly and new skills and professions that are in demand have appeared. Find something that you like and might come in handy.
8. Transform your resume
If you've lost your job, chances are you also have an old resume. Your resume probably doesn't list your last job or what you had to do. Use this time to change your resume, change it visually and adjust it to modern standards.
9. Update Your LinkedIn Profile
Don't have LinkedIn? so this is a great time to create it. And if you have it, then this is a good chance to upgrade it. Take a close look at your LinkedIn profile. Is it relevant? Are you sure your work experience is recorded? Can you seek references from colleagues or former managers?
10. Review your career goals
If you just lost your job, this could be a great time to reset. Did you enjoy your work? If so, think about how you can improve your skills. Well, if not, then find out what you like.
11. Job search
Perhaps you are well versed in your value system and dreams. You've updated your resume, tidied up your LinkedIn, and established social connections. What are you waiting for? start looking for work.
12. Take a break
But if you have everything ready, your resume has been edited, your skills have been developed, but you feel that you are not yet ready for a new job, then just take a break. If you are in a position where you can take a break financially, then time off from work can be extremely valuable.