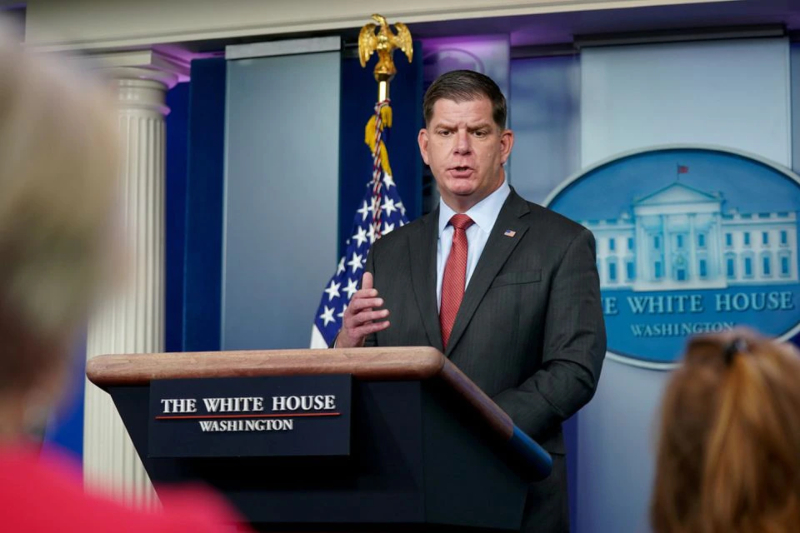 us labor sec. walsh
US Labor Secretary Marty Walsh and US Secretary for Commerce Gina Raimondo have been working towards putting together their infrastructural proposal for overall American workforce development plan. Their proposal suggests a $100 million dollar investment towards jobs, training programs. While talking about it to an American local television channel, Mr. Walsh shared that there has been a gain in jobs in the last few months, especially in the area of restaurants and hospitality.
"I am hopeful as we move towards the rest of the fall season, we can ensure more people can go back to work." Walsh gave emphasis to personal and mental health, in case America had to go into a lockdown phase again.
Speaking to a leading television channel about the supply chain issues, Gina Raimondo, US Secretary of Commerce admits that "there is a little bit of improvement but not enough. There is really no quick fix to that one. The long-term solution is for Congress to pass the chip act, so that we can incentivize more domestic production of semiconductors."
Related Posts
There is potential of huge jobs in America right now. Blame it on Covid disruptions but she admitted that there is skill shortage. Ms. Raimondo did also share that going ahead we will see more flexibility and options to work from home.
What America is going to see boom is premium on digital skills in coming times, including cloud computing skills, data and technology skills, etc. There is now an urgency that everyone has access to such skills, across ethnicities in rural areas and cities alike.
Meanwhile, American President Joe Biden is continuing to advocate for domestic production to be prioritized in order to develop US manufacturing related job opportunities. For him, manufacturing jobs remains a priority. His challenge is to succeed in reinvigorating a sector that has steadily lost jobs for more than four decades. The administration is championing a $973 billion infrastructure package, comprising $52 billion for computer chip production and sweeping investments in clean energy and the use of government procurement contracts to create factory jobs. Biden was to hear about Mack's electric garbage trucks.