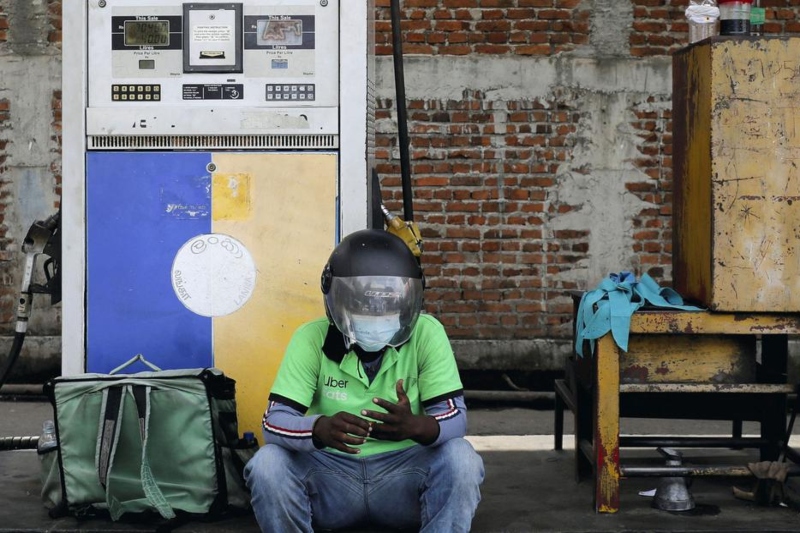 economic meltdown has forced workers to take on second jobs as waiters and drivers

Sri Lankan – The economic meltdown in Sri Lanka has affected workers. Many workers, who are struggling to afford food, fuel, and medicine have turned to second jobs to survive during the economic meltdown.
Sri Lankan waiter Abdul Razzak hoped to earn more by doing a second job as an Uber Eats food courier using his friend's motorcycle. However, this idea did not work out for him. Reportedly, he ended up stuck in queues to buy gasoline rather than doing deliveries. People are finding it difficult to buy fuel and other essential goods.
Many Sri Lankans are being forced to take on second jobs as millions struggle to survive because of the worst economic crisis since independence in 1948. Reportedly, fuel shortages, power cuts, and soaring food prices have affected the lifestyle of Sri Lankans. Job losses and reduced earnings increased poverty in the country by 2.2 crores.
Abdul Razzak, who is 53 years old, is facing hardship in his daily life due to the economic crisis. He reportedly said, "We have never come across this kind of economic hardship. Sometimes my wife and I go hungry so that we can feed our children two meals."
Related Posts
The country is facing the worst economic crisis because of mismanaged government finances and ill-timed tax cuts. The coronavirus pandemic also affected the tourism sector of the country. The currency crisis has badly disrupted fuel imports and caused skyrocketing food prices.
Indika Perera, a 43 years old security guard at a private company in Colombo, earns 42,000 Sri Lankan rupees a month. However, it is hard for him to survive on this salary. According to Scroll, the groceries now cost him half of his salary. Before the Covid-19 pandemic, it used to cost about 10,000 Sri Lankan rupees a month. He is reportedly struggling to feed his three children anything more than plain rice once a day. He said, "Sometimes my wife and I starve." He also took another job for short period, but he left that job because two jobs were affecting his health.