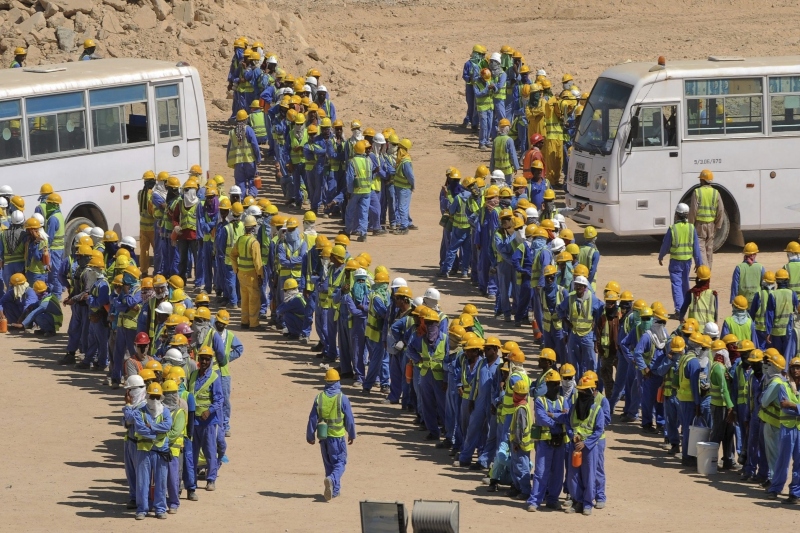 migrant workers at a prominent firm in qatar unpaid for up to 5 months

Qatar – Some migrant workers at the Bin Omran Trading and Contracting (BOTC), a prominent firm covering ongoing projects related to the FIFA World Cup Qatar 2022, have not received their salaries for up to five months.
Human Rights Watch (HRW) released a report on this matter. According to the report, BOTC is guilty of violating Qatar's labour laws for delaying the payment of the workers. The law requires employers to pay wages in full and on time to the employees.
The BOTC firm has more than 6,700 workers. The workers have made numerous formal complaints to Qatari authorities over the past few months, seeking payment for their work. However, they did not get any response from the authorities.
Related Posts
HRW also informed Qatari authorities about the labour law violations at the firm on 8 February. However, the authorities did not give any response to HRW.
The workers at the company have also filed complaints to the Labour Ministry, the Labour Court, the Qatari police, and the National Human Rights Commission in February.
The Qatari police told workers that they would be paid by the end of February. However, they did not receive payment for their work. HRW interviewed a BOTC employee, who had not been paid for the last five months. The worker told HRW that as of March 3, the company had still not paid workers. Reportedly, one employee told HRW that salaries were delayed between 2018 and 2020 by two-to-five months.
According to Doha News, the BOTC firm would make false promises to workers that it would send payment on time. However, there was not a single month when the workers were paid on time.
Despite not paying the employees, BOTC threatened workers to reduce their wages if they do not keep working for the company. Doha Newsalso tried calling and emailing BOTC but has not received a response from them.