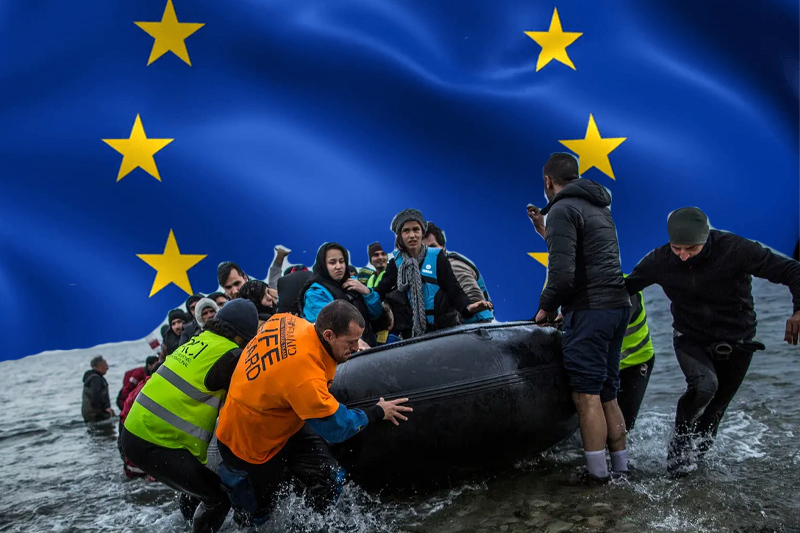 eu attempts to resolve migrant crisis that has persisted for years
The unauthorized entry of migrants into Europe has been one of the most intractable political challenges facing the bloc for quite some time now. Recently, the interior ministers of the European Union made a brand-new effort to curb the impact of unauthorized migrant entry by weighing out specific new measures. Almost eight years ago, the asylum system of the EU technically collapsed, with over a million people entering the Union. Most of those who joined the EU were either fleeing from the Syrian conflict or were victims of the overwhelmed reception capacities of Italy and Greece. This eventually sparked one of the EU's most significant political crises, which would make its repercussions felt for days to come.
Ever since, the 27 EU nations have had numerous disagreements over which countries should take the primary responsibilities for those arriving in the EU without authorization and whether other nations had the duty to assist such countries in the process. Home Affairs Commissioner Ylva Johansson, the EU's top migration official, remarked at a Luxembourg meeting that it was a remarkable day to resolve one of the EU's "marathon issues". Johansson commented that the EU was close to finding sustainable solutions to the issues at hand with the combined efforts of the EU nations.
Keep Reading
Asylum applications must be processed by the countries where refugees initially arrive per the present legislation governing the management of migrants in Europe. However, nations like Greece, Italy, and Malta contend that it is now too difficult to deal with the influx of refugees.
Legal issues forced the abandonment of attempts to impose quota systems on nations to more equitably spread the burden of hosting migrants more. As a result, the European Union (EU), now being presided over by Sweden, has presented a new plan to deal with this persistent problem.
European countries, especially those at the head of the migration routes, have faced severe difficulties as a result of the migrant crisis. Greece, Italy, and Malta have argued that the current structure significantly strains their capacities and resources. In order to collaboratively solve the problem, a more equal and practical strategy is sought out.
Legal obstacles previously prevented EU member states from enforcing mandatory migrant quotas, which forced their discontinuation. However, the Swedish presidency's current suggestion proposes an alternative course of action. It offers a financial substitute rather than requiring nations to accept a predetermined number of migrants. With this strategy, countries reluctant to accept migrants could make financial contributions. But it's still unclear whether this idea will catch on. The upcoming summit of EU leaders will decide whether the suggested member states adopt financial contribution options. Although it offers a potential way to lighten the load on frontline nations, its viability and efficacy in tackling the deeper problems of the migrant crisis are still unknown.