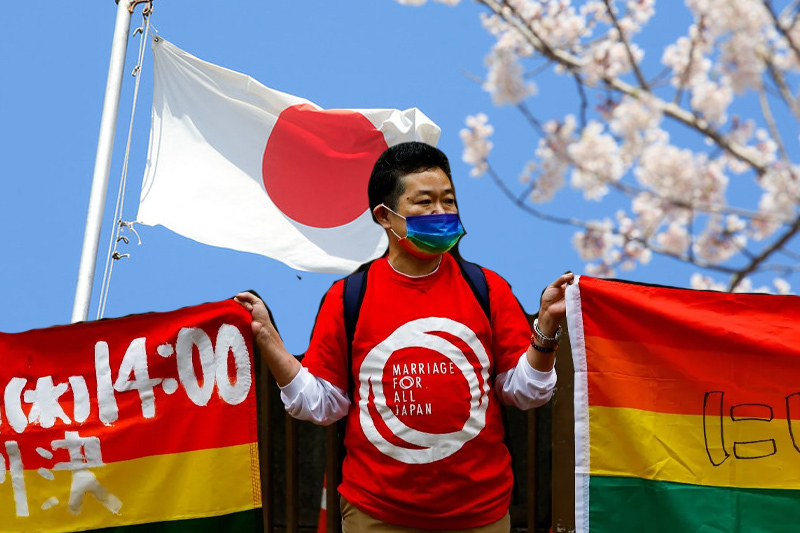 hopeful sign japan's same sex marriage rulings bring optimism to campaigners
Since 2019, there have been numerous campaigns in support of same-sex marriages in Japan. Recently, a regional court in Fukuoka ruled that Japan's failure to recognize same-sex marriages was unconstitutional. This view of Japan's court gave hope to campaigners who have brought numerous suits for the recognition of same-sex marriages, with mixed results.
In total, five judgements have been pronounced in and around Japan on the issue of same-sex marriages. Among the five judgements, two say that the ban on same-sex marriages is unconstitutional, and one says that the ban is not unconstitutional.
Notably, among the Group of Seven (G7) countries, Japan is the only country that does not provide legal protection for same-sex marriages. Over a dozen pairs of individuals submitted lawsuits in five district courts, aiming to receive compensation from the government for obstructing their ability to marry. Although none of the courts approved the claims for financial reparation, the judges held differing opinions regarding whether Japan's lack of marriage equality goes against its constitution.
Keep Reading
Takeharu Kato, a Japanese lawyer who represented a case in northern Sapporo, commented that all the courts in Japan enjoyed consensus when it comes to the need for legislation that endorses and legally protects same-sex relationships and unions on an equal footing as that of heterosexual couples.
The verdict in Fukuoka on Thursday was similar to the one in Tokyo in that it found that the lack of marriage equality is an "unconstitutional situation," albeit it stopped short of openly declaring it a violation. The court ruled that it is unlawful for the current rules to prevent same-sex couples from legally starting families with their chosen partners because they violate "individual dignity."
According to opinion polls, around 64% of the population supports same-sex marriage, and more than 300 municipalities, including Tokyo, presently grant same-sex couples the same privileges as married couples.
Unfortunately, the conservative governing party in Japan, under the leadership of Prime Minister Fumio Kishida, remains noncommittal about the issue of same-sex marriages despite pressure from the other G7 countries, especially the US.
Marriage must have "mutual consent from both genders," according to the 1947 constitution, which also emphasizes that everyone is "equal under the law." Multiple decisions are expected to be appealed, and according to Kato, the plaintiffs want to refute the idea that alternatives to marriage give LGBTQ people equal rights. Same-sex couples no longer wish for piecemeal protection and enjoy legal protection for marriage.
As Japan's parliament edges closer to passing new legislation on a better understanding of LGBTQ rights, the latest ruling is a hopeful sign for many campaigners in support of same-sex marriages. The proposed bill prohibits unjust discrimination on the grounds of sexual orientation. However, LGBTQ activists have termed this legislation useless due to its watered-down language. Voting on this new legislation is anticipated to take place next week.