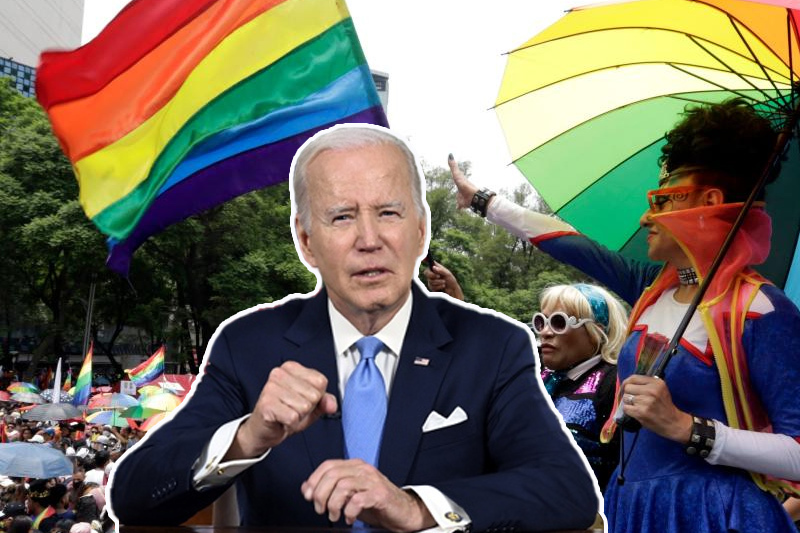 biden invites thousands of lgbtq+ individuals, to celebrate pride month
President Joe Biden has invited thousands of LGBTQ+ people to celebrate Pride Month. This is a big time for the LGBTQ+ community in the White House.
White House officials confirmed, Biden was announcing new initiatives to defend LGBTQ+ communities from harm, provide homeless youth with mental health resources, and fight book bans.
Pride month and celebration in the White House with LGBTQ+ people
The White House was deciding whether to go ahead with plans for a Thursday night picnic that would include food, games, face painting, and photos while closely monitoring the air quality due to dangerous smoke from Canadian wildfires. The music was being handled by Queen HD the DJ, and singer Betty Who was scheduled to perform.
Biden, Vice President Kamala Harris, and their spouses are ardent supporters of the LGBTQ+ community, and according to Karine Jean-Pierre, the first openly gay White House press secretary, they believe that holding a celebration is an important way to "lift" their achievements and contributions.
People who identify as LGBTQ+ should be aware that Biden "has their back" and "will continue to fight for them," she said. We want to ensure that this message is spread throughout society.
The Human Rights Campaign, the largest organization in the country that advocates for lesbian, gay, bisexual, transgender, and queer people, declared a state of emergency for LGBTQ+ people earlier this week and published a guidebook outlining laws it considers discriminatory in each state.
Just a few days into June's Pride Month, the campaign claimed that its action was in response to an "unprecedented and dangerous" rise in the number of discriminatory laws sweeping state legislatures this year. More than 525 anti-LGBTQ+ bills have been introduced, and more than 70 of them have already been signed into law, which is more than double the amount from last year.
The campaign's president, Kelley Robinson, urged a "swift and powerful" response from those in positions of authority, including in business, government, and education.
In an interview, she told The Associated Press that "this is a full-blown crisis for our communities that demands a concerted response." "I believe this is sort of a call to arms and a national call to action to stand up and fight back."
To prevent violent attacks, Biden announced that the Department of Homeland Security would collaborate with the Department of Justice and Health and Human Services to provide safety resources and training to LGBTQ+ community organizations.
Keep Reading
Separately, HHS and the Department of Housing and Urban Development will offer assistance to LGBTQ+ youth who require support for their mental health, placement in foster care, or who are homeless.
Biden was announcing that the Department of Education's civil rights office will appoint a new coordinator to collaborate with schools to address the threat posed by a rise in book bans.
The White House claimed that book banning undermines democracy deprives students of necessary educational resources, and can exacerbate the isolation and stigma LGBTQ+ youth experience because books about them are frequently the ones that are banned.
According to LGBTQ+ advocates, there has been an increase in the number of bills introduced in state legislatures that may limit the rights of transgender people, including some that may restrict their access to certain types of health care.
It is worth noting that President Biden has a track record of advocating for the rights of lesbian, gay, bisexual, transgender, and queer individuals. The White House has reported that he has appointed individuals such as Jean-Pierre to significant roles within the federal government.
It's worth noting that President Biden recently signed legislation to protect marriage equality, following the Supreme Court's decision to overturn a woman's constitutional right to an abortion last year. He is urging Congress to send him the Equality Act, which would provide additional civil rights protections under federal law for LGBTQ+ individuals.
It is worth noting that surveys indicate that there has been a significant increase in public acceptance of gay and lesbian relationships and marriages over the past two decades. According to a recent Gallup poll of U.S. adults, approximately 70% of respondents expressed the view that gay and lesbian relationships should be both legal and morally acceptable.
It's important to note that opinions on transgender people can be complex and multifaceted. According to surveys conducted in 2022 by KFF, the Washington Post, and the Pew Research Centre, it was found that a majority of respondents expressed support for laws that prohibit discrimination against transgender individuals in various settings such as housing, employment, and educational institutions.
According to both surveys, it appears that a majority of Americans hold the belief that a person's gender identity is determined by the sex they are assigned at birth. Some people may hold views that are not supportive of transgender individuals, including policies that limit their participation in sports teams based on their gender identity and restrict their access to hormone and puberty blocker treatment.
The Human Rights Campaign's declaration of a "state of emergency" was criticized by The Log Cabin Republicans, an organization that speaks for LGBTQ+ conservatives, as a "PR stunt so ignorantly detached" from the community's advancement over the previous ten years.
The group's president, Charles Moran, cited the passage of the gay marriage law by Biden, the rise in public support for equal rights for LGBTQ+ people in America, and their increased visibility in society. He accused the campaign of "destructively redefining" support for these people about minors having transgender surgery, biological men playing women's sports, and sex and gender identity lessons in kindergarten.
The LGBT community, which has persevered through far worse, is not in any way put in a state of emergency by these issues, even though they can be emotionally charged and complicated, according to Moran.