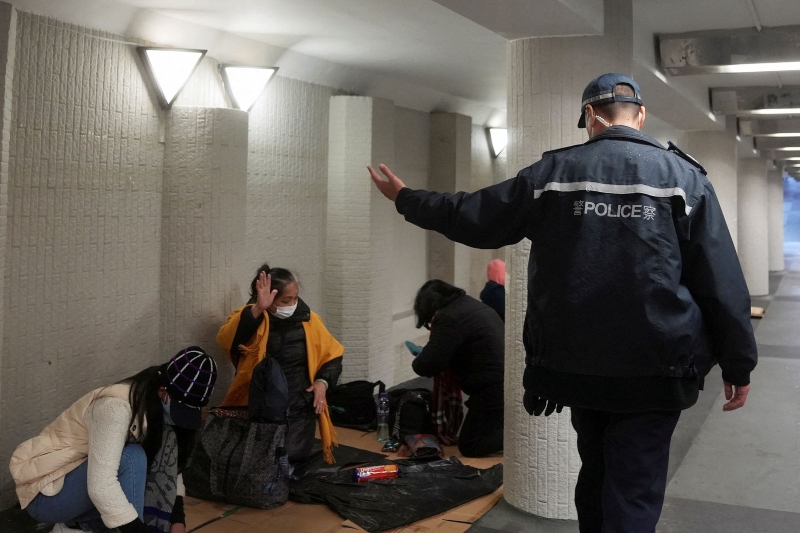 domestic workers left homeless and jobless in hong kong after contracting covid 19

Hong Kong – Sick domestic workers were left homeless and jobless in Hong Kong after contracting Covid-19. Many workers also faced other forms of discrimination and abuse after contracting Covid-19.
When Josephine, a 54-year-old domestic worker from the Philippines, contracted Covid-19, she faced discrimination. After testing positive for Covid-19, she was given "cold, cough, and fever" medicine by medical staff. They told her to stay home. However, Josephine's employers did not provide her bed to sleep in. They gave her a mattress and a place on their building's dirty stairs. However, she was unable to rest properly there. She had to stay there in cold weather.
Josephine was banned from using her bosses' bathroom, and she had to go out to use a public toilet. She was unable to get a shower for many days. Reportedly, she was shocked about being left outside the house while she was ill. She said, "I felt that nobody could help me, I cried a lot."
Josephine told her relative about the incident. Subsequently, she was rescued by charity workers, who took her to a shelter.
Related Posts
Dozens of other domestic workers in Hong Kong have experienced similar situations recently. Many workers have experienced discrimination and abuse after testing positive for Covid-19. They have been shouted at, kicked out, and even fired after contracting Covid-19.
Another worker who contracted Covid-19 infection said, "I had a very high fever and could not breathe. I asked for an ambulance but my employers didn't want to call one." Employers continued asking her to work. Later on, she contacted the Indonesian consulate and a network for migrant workers, which helped her call the emergency services. She was given medicine at the hospital. However, she slept on a chair in reception for five days due to a shortage of beds. Many workers were unable to go to their boss' toilet, they were given limited food, and they did not get medication.