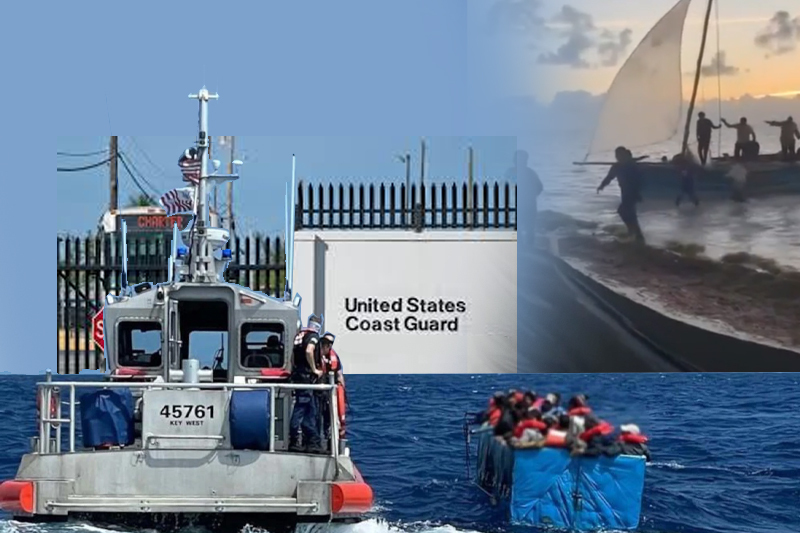 coast guard returns 273 migrants stopped off florida coast to cuba amid stepped up patrols
After New Year's Eve, there is a large influx of immigrants from Florida by sea. Coast Guard returns 273 migrants held off Florida coast to Cuba amid patrols
According to a news release, 273 migrants were returned to Cuba aboard the Coast Guard Cutter Mohawk.
The US coast guards said that they had stopped the boats of migrants coming from Cuba to Florida, on New year's eve or the day of New Year's.  And on a Sunday all 273 migrants from Cuba were sent back to their homes.
District Seven's Coast Guard Lt. Cmdr. John Beal said, "The Coast Guard continues to interdict and rescue migrants from grossly overloaded, unseaworthy vessels".
He also added that These illegal ways are always dangerous. We are working closely on the Southeast Maritime border with agencies to save lives and prevent illegal entry into the US.
As you know, many migrants who were coming from the sea to Florida on 31 December last year and the new year of 2023  were stopped by the coast guards of Florida. There also news came that about 35 miles north of Havana the sea ships had overturned. It happened after a good Samaritan alert send to the Coast Guards. The Coast Guard of the US said that food, water, medical care, and shelter were provided to the migrants.
Related Posts
On this Sunday officials also answered about the two more landing in the Florida Keys. Marathon and Largo were the points, and here the officials found more than 50 migrants. A Coast Guard troop also cached migrants at Hallandale Beach
Love is also one of the reasons for the growth of these migrants! A long year had passed since the pandemic, and the longing to meet their loved ones prompted people to travel through the perilous path. The arrival scene is full of emotions, which we saw in the video released on Sunday. People in Key Largo are embracing families. Many are waiting on the side for the arrival of their family or loves.
The Coast Guard said that they have found 4,795 migrant people from Cuba since  1st October 2022. But in the fiscal year 2022, there were  6,182 Cuban immigrants. In the year 2021, the number was 838. So the rates are continuously increasing. The governor's response had also come on the previous day and now the time is saying the US government should show humanity and think about article 44!