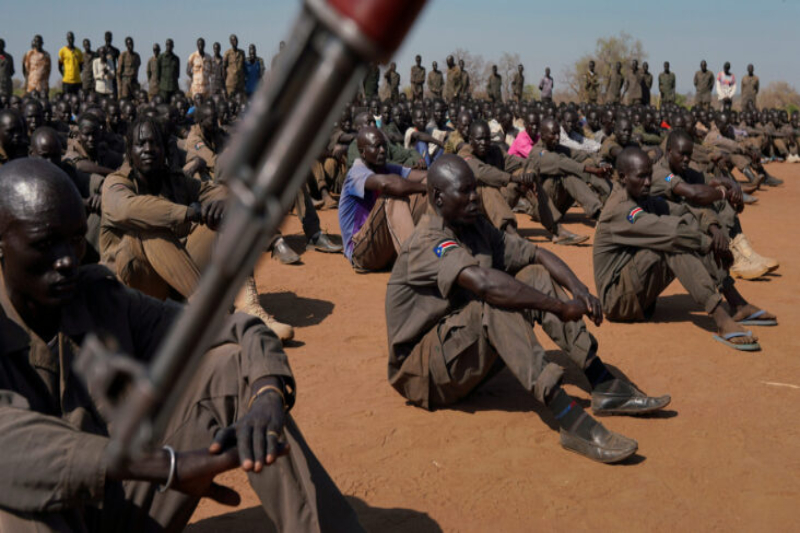 south sudan arms embargo
Ahead of the UN Security Council's vote on the future of the arms embargo on South Sudan on May 27, Amnesty International has warned against lifting the embargo to prevent serious human rights violations in the North African country.
In its latest report, Amnesty International has urged the UNSC to ensure that South Sudan complies with a wide range of human rights benchmarks before deciding on the lifting of the arms embargo on the country.
"These include an end to crimes under international law, reform of the National Security Service (NSS), and the establishment of a Hybrid Court to ensure accountability," the international NGO said.
In the report, Sarah Jackson, Amnesty International's Deputy Regional Director for East Africa, underlined that South Sudan's security forces have been suppressing freedom of speech and expression, including media freedoms in the country for a long time now. She pointed out that both state security forces and armed groups are continuously violating international humanitarian law and increasing war crimes with dispensation.
"When the Security Council assesses keeping or lifting the arms embargo on South Sudan, it must set the bar at halting these violations and ending impunity," Jackson said.
Related Posts
An investigation carried out by Human Rights Watch in December 2020 revealed that South Sudan's National Security Service (NSS) has carried out multiple alarming human rights violations against various groups in the country, including arbitrary arrests, torture, unlawful detentions, killings, and ill-treatment of detainees among other acts.
"The NSS held detainees in prolonged, arbitrary, and incommunicado detention, often in congested cells with inadequate access to food, water, and medical care," the HRW report noted.
The human rights watchdog also expressed concerns over NSS abuses going beyond the borders of South Sudan.
"It (NSS) has harassed and repressed South Sudanese activists in Kenya and Uganda with the aid of local authorities," HRW reported.
The UN Commission on Human Rights in South Sudan has pointed out the violators are often supported by both the government and the Opposition. In a statement on February 19, the Commission said that staggering levels of violence continue in South Sudan despite efforts of peace and renewed political commitment. Commission Chair Yasmin Sooka underlined that women and girls have been targeted by all sides and abducted boys were forced into fighting. Furthermore, Commissioner Andrew Clapham stressed many of these acts are human rights violations and may be equivalent to crimes under international law of draft statute of the Hybrid Court for South Sudan.
Several efforts of brokering peace in the country have been underway with the support of the United Nations Mission in South Sudan (UNMISS) and other international institutions and countries. However, the implementation of a peace agreement is getting delayed amid strained security situation in the country. If the arms embargo is lifted, it would allow more weapons and violent acts in the already-fragile situation.