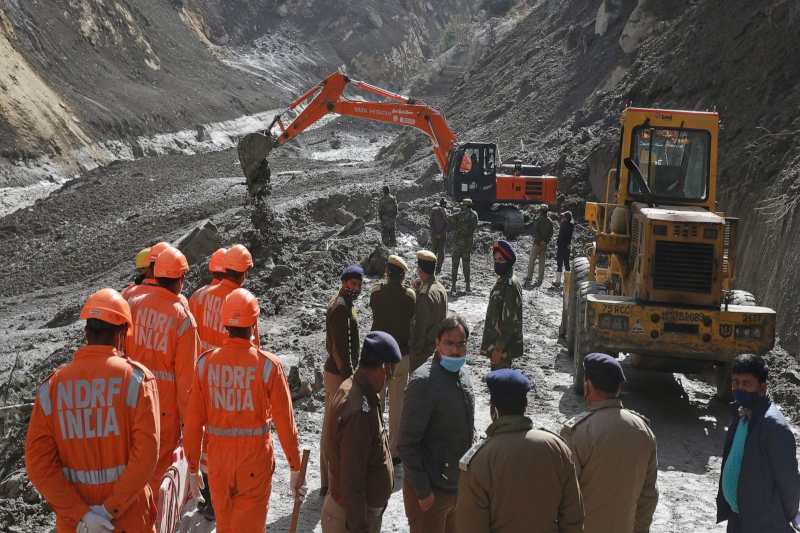 himalayan disasters
Search operations are underway to find the missing people following the Uttrakhand calamity on 7 February 2021.
"To date, 74 bodies have been found but 130 people still are missing," said Swati S. Bhaduria, district magistrate Chamoli, Uttarakhand, India.
Chamoli is the area where an ice-capped rock broke from a glacier and fell into meltwater forming a debris lake. The lake breached, causing heavy flooding downstream.
The disaster is linked to climate change and development policies in the Himalayas. And as seen in most climate-linked disasters, most low sections of society suffer the most devastating consequences. The most vulnerable people in Chamoli district are its migrant construction workers, who hail from states across India.
A total of 204 people reportedly missing or dead, nearly 77 are from Uttarakhand.
"Out of it, 11 people were not the workers of two dam companies," added Bhadauria. These two dams referred to are Rishiganga Hydroelectric Project and Tapovan Rishnugad Powerplant, under construction since 2005. 
Related Posts
The floods in Chamoli broke through the Rishiganga project first and then, along with the debris accumulated there, broke through the Tapovan project 5 kilometers downstream.
"Local people and others from Punjab, Bihar, Kashmir, Haryana, Uttar Pradesh work on these two hydroelectric projects," said Atul Sati, a Chamoli-based social activist.
Sati said the local community thinks that the total number of casualties from the Uttarakhand calamity may be higher than what was reported because not all the projects' migrant workers have been accounted for by the local construction companies and their subcontractors. The National Thermal Power Corporation (NTPC) is a state-owned utility that has the ownership of the Tapovan Vishnugad project. "NTPC has lent building contracts to other companies thus no one can give the exact count of people who actually went missing," Sati explained.