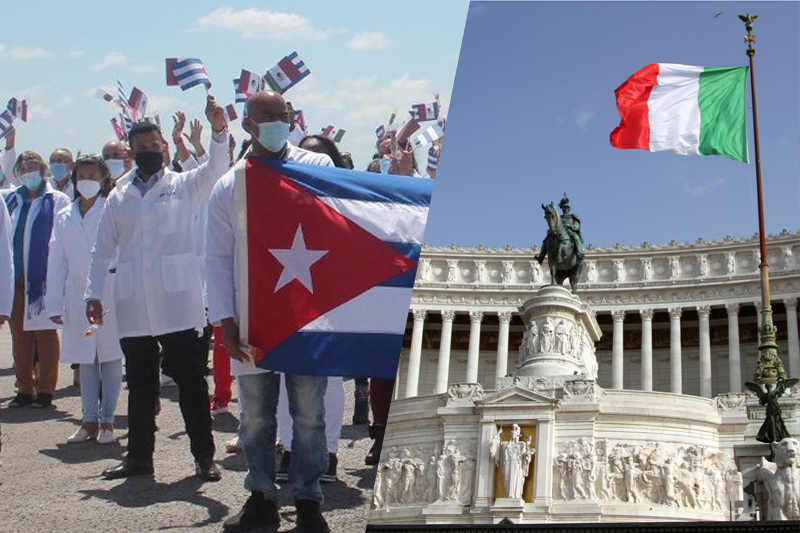 meps speak out against the 'slave trade' of
Italy – In order to address a medical staff shortage, a number of MEPs urged the governor of the Italian province of Calabria to reevaluate the potential labour exploitation that would result from hiring Cuban physicians.
In order to fill a medical staffing need, local authorities inked a cooperation agreement in August with the intermediary business for the Cuban government, Comercializadora de Servicios Médicos Cubanos (CSMC), to hire 497 doctors.
In a letter to the governor of Calabria, Roberto Occhiuto, a number of MEPs expressed their opposition to this "awful remedy" since it would compromise local governments' ability to protect citizens' health and enable labour exploitation.
As one of the letter's co-signatories and a member of the European Parliament's Civil Rights Committee (LIBE), Italian lawmaker Laura Ferrara stated, "We know quite well that signing an agreement with Cuba is equal to practically sanctioning forms of slavery."
According to the partnership agreement, which is posted on the region's website, Calabria will pay each physician €4,700 per month for their services.
While the remaining €3,500 will be handed to the State-owned enterprise, only €1,200 will be given to the doctors to cover their fees and expenses in Italy.
Less than a third of what the area typically pays for doctors would be paid to Cuban doctors deployed on missions to Calabria, she claimed.
Ferrara claims that the treatment these doctors receive is also "restrictive of personal freedom." They are unable to leave the hotel where they are staying, have relationships, or, in any case, contact other people outside of working hours, and they are also unable to operate a vehicle, according to Ferrara.
They can't leave the mission until it ends naturally, and they even have to let the Cuban government know if they fall in love while on it, she continued.
Keep Reading
MEPs emphasised that the "Cuban State keeps systematically violating the labour and human rights of its healthcare personnel assigned to work abroad on medical missions, which makes it equivalent to modern slavery according to the UN" in a resolution passed by the European Parliament on September 16, 2021.
The presidents of the medical and dental professional associations in the region of Calabria raised grave worries regarding the standard of service that Cuban healthcare providers could offer to locals.
For the medical profession to be practised in any EU nation, procedures for validating and recognising credentials gained in foreign nations in the health sector are necessary.
While regulation from 2005 established a framework for Europe to recognise professional credentials, the processes for dealing with third nations are less clear.
According to Ferrara, "it is not even known if this kind of equivalence has been certified or if there are integration exams that doctors are expected to take when migrating from one EU member to another."
The second problem is language, which is crucial to the communication between patients and doctors. The University of Calabria would organise language classes to address this issue, according to President Occhiuto.
Nevertheless, it takes time to acquire a solid command of the Italian language, according to Ferrara.
The failure of recent applications for medical doctor postings in Calabria, one of the poorest regions in Italy, as no bids were received, is one of the primary reasons that the government of Calabria has turned to Cuban physicians.
In the healthcare industry, this circumstance is referred to as a "medical desert" and describes a dearth of medical staff or medical services in particular geographic locations or communities, typically in rural and isolated areas.
According to Natasha Azzopardi-Muscat, director of the division of country health policies and systems at the European branch of the World Health Organization (WHO), "this is one of the largest issues we are facing."
Ferrara claims that there aren't enough incentives, particularly in terms of contract terms, for doctors to relocate to Calabria.
Instead of fixed-term contracts, the member suggested, "public notices of employment for an indeterminate period" may be used to address the issue with the health system in Calabria.
According to a 10-step action plan released by the European division of WHO, having better data on the distribution of healthcare workers at a subnational level plays a role in tackling the "medical desert".
The letter's signatories concur that European regions should address the problem. "It is vital to be more timely and respond at the regional level before the European Commission can interfere with a warning or something else," Ferrara said in his conclusion.