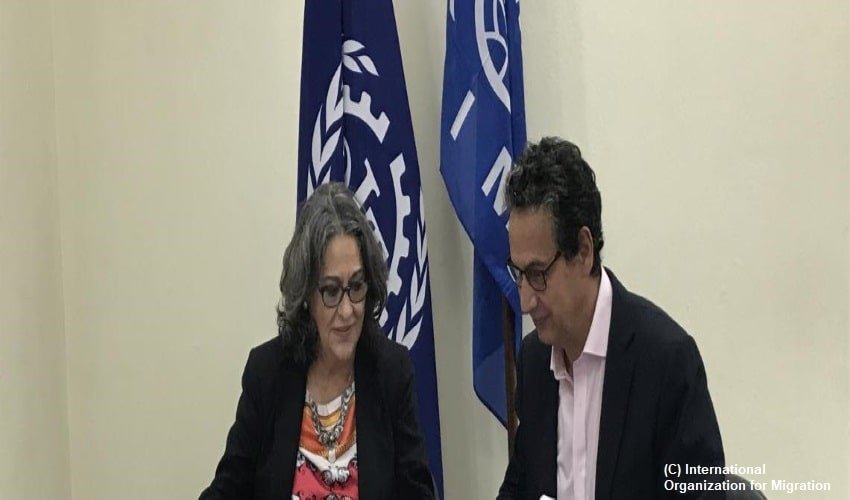 ILO and IOM ink pact to sustainable and ethical migration
The two UN agencies will be bringing together their core competencies in order make migration a beneficial experience for everyone.
The International Labor Organization (ILO) and the International Organization for Migration (IOM) will be working together more closely to implement a framework for better migration governance. The agreement will initially focus on coordinating migration policy in the national, regional and global levels, in addition to capacity building. Some fields of cooperation might be developed later on.
Guy Ryder, ILO Director-General, and António Vitorino, the IOM Director-General sat down to sign the agreement on October 23 in ILO headquarters in Geneva.
Delighted to sign timely new agreement with @IOMchief #COVID19 is hitting the most vulnerable hardest, including migrant workers and their families

Agreement formalises ILO and IOM collaboration to improve migration governance, policy coherence & ensure migration benefits all. pic.twitter.com/hSPKwpSTuw

— Guy Ryder (@GuyRyder) October 23, 2020
The idea is to strengthen the workings of their individual mandates as well as collaborate in the intersectional fields of labour and migration that has been increasingly shaping the world. With millions of people migrating thousands of kilometres each year, both permanently and seasonally, it is crucial to ensure that this massive human resource transaction is sustainable and inclusive.
Migrant populations, across the wage spectrum, have been the worst hit due to the pandemic which has shaken up economies and introduced uncertainties. The most vulnerable among them have been hit the hardest. According to a statement released by the two organisations, this is the perfect opportunity for them to combine their strengths in order to help countries and communities rebuild their future.
Also Read | NYPD sued for alleged police brutality during Floyd protests
With many countries already starting to chart out their pandemic recovery plans and many of the systems and process in the world hitting the reset, this is the right time to come together to create a better, more equitable planet with opportunities that are fair for everyone. This is only of the many interlinked initiatives of UN agencies that bring together non-governmental organisations, states and the private sector.
The respective expertise of the two organisations will be leveraged in order to advocate for a world with better migrant rights and decent work opportunities. It will allow dialogue between workers, employers and governments to boost cooperation, capacity building and participation in policy discussions. Over the next six months, both the organisations will develop and implement the agreement across all levels and work directly with the populations that it will impact. It will help push the parties they work with towards the 2030 Sustainable Development Goals.