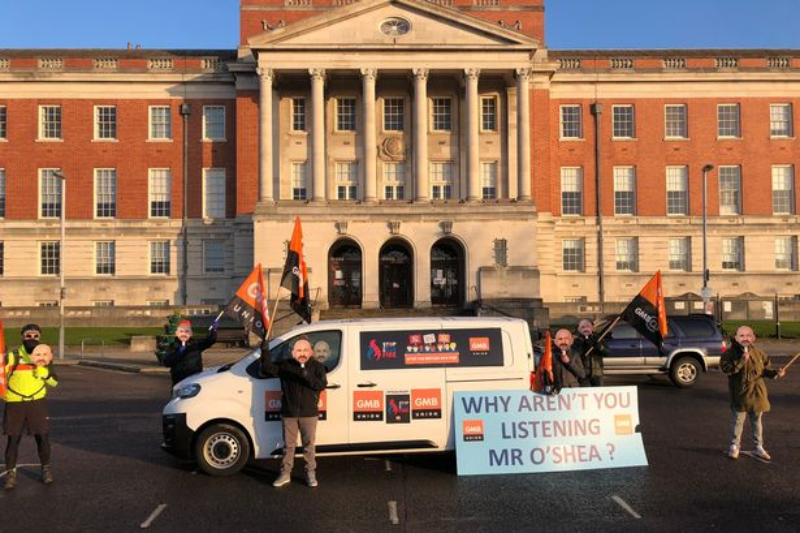 as workers protests
Gas workers in the United Kingdom stopped working after talks with bosses over restructuring plans broke down. Thousands of engineers and call center employees have begun five days of strike over so-called fire and rehire threats, recently announced by the national energy giant. Union GMB, which is facing the action, claims staff are at risk of losing their current jobs and being forced to reapply and accept diminished duration and payments.
In June last year, parent company Centrica indicated plans to make some staff redundant and renegotiate contracts with other employees. Unions described the plans as detrimental, adding they would amount to increased working hours for no extra payment. GMB alleges that bosses then attempted to bully workers into accepting the cuts by frightening them to terminate their contracts and rehire them on new terms.
Over 10,000 GMB workers at British Gas were balloted in December, and 89 percent took part in the strike movement. The union stated it would be the biggest dispute seen in the sector for over forty years, urging management to think again about the company policy. British Gas employees who have downed tools in a row over pay are protesting at Bowaters roundabout in Gillingham today morning. British Gas engineers referred a "living nightmare" of going on strike as they restore to the picket line today over 'fire and rehire' plans floated by owners.
Engineers walk out for the second time today as part of seven days of industrial action. Also, workers announced tools on January 22, 25, 29, 30, 31, and February 1 following the five-day strike action started in early January in a bid to force British Gas bosses to back down. The GMB Union action arrives after plans appeared to 'fire and rehire' employees on worse terms and conditions which means increasing the working week from thirty-seven hours to forty hours. Labors claim these changes will "take money off them".
The strike action has disrupted British Gas services and GMB claims that the waiting list is more than 100,000-strong across the country. It's kind of like a match for everywhere in society. Bill Hawthorne, a British Gas engineer from Fife who has worked for the company for five years, claims the changes to his working conditions could see him lose between £8,000 and £15,000 a year.
He told to local media that "It's a very uncertain time, it's making me very anxious that a multimillion-pound company can do this to its workforce. "I think that there is a domino effect for other companies too. British Airways started this threat of hire and refire and now British Gas is flexing their muscles? We see British Gas as a company that's very family-orientated with a flexible workforce but the new terms and conditions aren't going to give us that."
Employees of the firm who have gone on strike across the country say they are being threatened with "Fire and Rehire" and are protesting against what they describe as "disgusting new terms and conditions being proposed by British Gas". The employees say they have been told they have until the end of March to sign the new contracts or they will be fired. This is the second round of strikes in as many weeks, with staff saying they feel they have no other alternative as British Gas has not entered into any meaningful negotiations with the Union, GMB.
It is claimed the new Terms and Conditions would see engineers and other employees lose thousands of pounds a year and would have a detrimental effect on family and well being. Justin Bowden, GMB's National Secretary said: "It's time for the Centrica board to wake up and smell the gas. "Centrica's problems were not caused by the loyal engineers, call-center workers, and back-office staff who have done everything asked of them over years of boardroom mismanagement but yet again it's their jobs that are in the firing line."