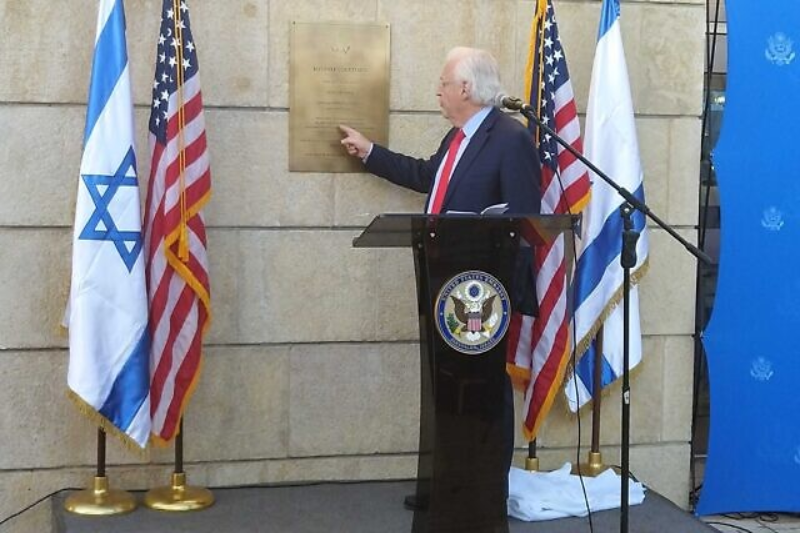 US embassy to Israel, West Bank, and Gaza
Last updated on February 6th, 2021 at 07:07 am
As Joe Biden took over the US administrations as the country's head, marking the end of Trump era, a brief editing slip on Twitter sparked controversy between US and Palestinian leaders. The official Twitter handle of US Embassy to Israel briefly changed its profile name to US Embassy to Israel, West Bank and Gaza. This change appeared a little after Biden was sworn in as the US President on Wednesday. The change triggered multiple fears, especially among pro-Palestinian leaders and sparked rumours including if it reflected Biden's foreign policy towards Israeli-Palestinian conflict.
What flared the issue further was change in Twitter profile name of US Ambassador to Israel to "US Ambassador to Israel, the West Bank and Gaza. The changes which took around noon (as per Washington DC time) were soon reverted to the originally existing names. But the brief change did raise enough commotion, compelling the embassy to issue a statement to clarify its intent and put rumours to rest.
The US embassy spokesperson said that the change in the title "was an inadvertent edit," and emphasized that it is "not a policy change or indication of future policy change". Observers believed that this quick edit-slip occurred around the same time, when Biden was sworn in and the former president Donald Trump's appointee David Friedman, officially stepped down from the post of US ambassador to Israel. 
It was during Friedman's tenure that the US ambassador gained control over all the three territories (Israel, West Bank and Gaza Strip). It happened with Trump administration's decision to move the US embassy from Tel Aviv to Jerusalem. But Friedman never really used the term 'US ambassador to Israel, the West Bank and Gaza'. Palestinian leaders never shared a great understanding with Friedman, and neither did latter make any efforts to build significant ties with the Palestinian Authority,
Biden's critics, as Republican Senator Rick Scott of Florida, were quick to comment over the matter, which they believed showcased the new administration's "hostility to Israel.""There is no country of West Bank or Gaza, only territories that Israel has been willing for decades to negotiate sovereignty over but has been met with only hostility and terrorism," he tweeted.
Besides Republicans, Palestinian leaders also slammed the change, which triggered their insecurities, speculating if the brief change in Twitter handle reflected shift in US policy. "Have we been reduced to the West Bank and Gaza? Not even the courtesy of the occupied Palestinian Territories, which is in accordance with int'l law?" tweeted Palestine Institute for Public Diplomacy executive director Salem Barahmeh. "Shame on us if we expect any more from this administration. Shame on us for letting our national project get to this point."
Biden, who strongly expressed his intention to rework on US ties with the Palestinian Authority, might have to put in extra effort to win back Palestinians' trust especially after the Wednesday name change.