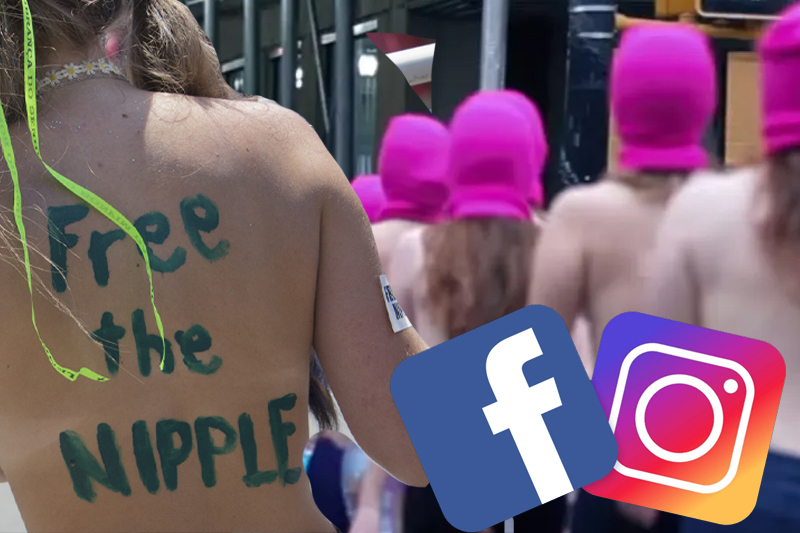 exclusive meta is lifting the rule breast image ban, news from free the nipple campaign
Newyork City :The independent oversight board of Meta has decided to remove its law banning posting photos of nude breasts on Facebook and Instagram. The repeal of the law follows a long-standing demand in the 'Free the Nipple campaign.
On January 17, the independent Oversight Board recommended the removal of this law by the technology. Let us tell you that this think tank Oversight Board is a group of journalists, politicians, and academicians. He advised it based on the adult nudity and sexual activity standard and said it would respect international human rights standards.
It is expected that Meta will follow the recommendations of the Oversight Board. The Oversight Board stated that the policy is biased toward gender and differences between female and male bodies. The old policy creates an unhygienic environment for nipples, especially those that are not female!
The policy prevented many different groups based on sex on the platform. Intersex, non-binary, transgender, and women faced this hardship on Meta to post photos or violated their rights to express themselves because of gender, maybe?
Therefore, Oversight Board speaks up and gives Meta this advice after Meta removes two Instagram posts featuring bare-chested transgender and non-binary people.
Keep Reading
Though this nudity policy of Meta has been the center of the debate over decades, they protect them by saying that guidelines are to minimize the exposure of the nipples of women. But at the same time, lactating women condemn META's policy.
Free Nipple campaign
This campaign started in 2000 to de-sexualize breast imagery. In the year of 2012, the campaign went mainstream and became highlighted to the world when Facebook removed the clip from Lina Esco's documentary Free the Nipple.
The controversy started around the world and people criticized the act done by Facebook, and demanded women post nude pictures if they want to! They start the wave by saying that Facebook is allowing hate speech to go viral but at the same time, female nipples are taboo. How biased it is!
You may remind of the speech of Mark Zuckerberg in 2018, who tried to justify this by, "It's easier to build an AI system to detect nipples than hate speech."
However, if the topic is under debate and the board has suggested META, it will be time for human rights activists, and feminists in the world to be on guard for META's next move! As nipple is not the only matter of WOMEN, it's of HUMANS!