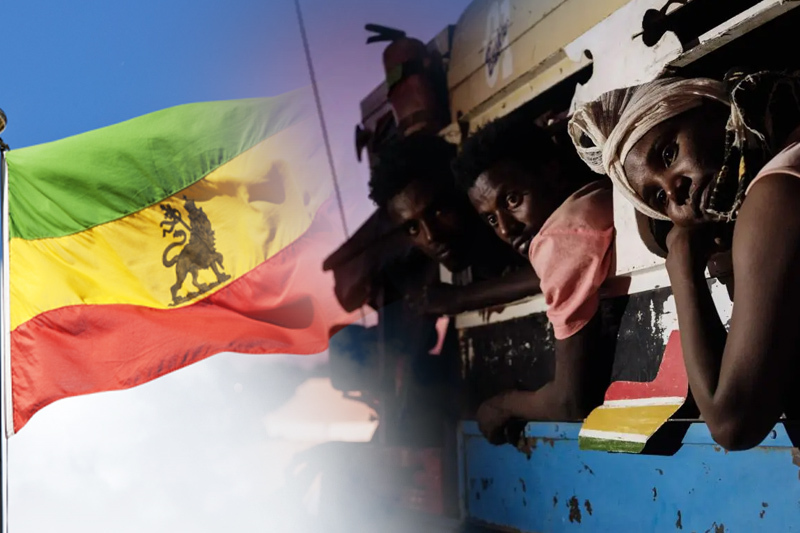 ethiopian authorities turn blind eye to human rights abuses in tigray zone
Human rights violations have become frequent occurrences in Ethiopia's Tigray Zone. Despite protests from international groups and activists, it appears that Ethiopian authorities are ignoring these abuses. The situation in Tigray is dire, ranging from arbitrary arrests and detention to torture and extrajudicial killings. This blog post examines the causes of Ethiopian authorities' failure to uphold citizens' fundamental rights as well as possible solutions to this urgent problem. As we explore the heartbreaking reality of human rights abuses in Ethiopia's Tigray Zone, buckle up for an eye-opening read.
Overview of the Situation
A new report from Amnesty International claims that Ethiopian authorities are ignoring violations of human rights in the Tigray region. Since the November 2, 2022, truce agreement, local authorities and Amhara forces in Ethiopia's northern Tigray region have persisted in forcibly expelling Tigrayans as part of an ethnic cleansing campaign in Western Tigray Zone, Human Rights Watch said today. Involved in serious rights violations in Western Tigray are commanders and officials, which the Ethiopian government should suspend, look into, and suitably prosecute.
Previously a report, which is based on interviews with more than 100 people, details the extrajudicial killings, torture, and arbitrary detentions that Ethiopian security forces have committed in Tigray since November 2020.
Amnesty International's director for East Africa, Michelle Kagari, stated that the Ethiopian government had consistently violated human rights in Tigray. The magnitude and seriousness of the abuses we have discovered are shocking, and they emphasize the urgent need for an impartial investigation.
Since Tigray's armed conflict began in November 2020, Amhara security forces and interim authorities have committed war crimes and crimes against humanity by ethnically cleansing Western Tigray's Tigrayans. Human Rights Watch found that Col. Demeke Zewdu and Belay Ayalew, previously implicated in abuses, continue to arbitrarily detain, torture, and deport Tigrayans.
The Ethiopian government has denied any wrongdoing by security personnel in Tigray.
In a recent release by the Human right Watch it is said by the deputy African director at Human Rights Watch named, Laetitia Bader said "The November truce in northern Ethiopia has not brought about an end to the ethnic cleansing of Tigrayans in Western Tigray Zone,"
And she continued. "If the Ethiopian government is serious about ensuring justice for abuses, then it should stop opposing independent investigations into the atrocities in Western Tigray and hold abusive officials and commanders to account."
Human Rights Abuses in Western Tigray Zone
Human rights violations are pervasive in Ethiopia's Western Tigray Zone and frequently go unpunished by the state. Extrajudicial executions, arbitrary detentions and arrests, compelled relocations, and sexual assault are some of these violations.
There have been numerous reports of extrajudicial killings of civilians by Ethiopian security forces in the Western Tigray Zone. At least six people were killed in one incident when security forces opened fire on a crowd of protesters. Another incident involved security personnel shooting and killing a man who was attempting to escape.
In the Western Tigray Zone, arbitrary arrests and detentions are also frequent. In one instance, a man was taken into custody and held for more than two months before any charges were brought against him. In another instance, a woman was arbitrarily detained for three days without being given a reason and without being able to contact her family.
Additionally, forced evictions are occurring in the Western Tigray Zone. In one instance, Ethiopian security forces forcibly removed over 100 families from their homes. Before the eviction, the families received neither a warning nor an explanation, nor were they given access to alternate housing. The eviction caused many of the families to lose everything they owned.
In the Western Tigray Zone, sexual violence is also employed as a tool of repression. In one incident, an Ethiopian soldier raped a woman who was attempting to run away from him. Another incident involved five men dressed in uniforms from the military who gang-raped a woman.
Focus on Government Responsibility for Human Rights Abuses
People have charged the Ethiopian government with ignoring violations of human rights in the Tigray region. Numerous violations, such as arbitrary detentions, torture, and extrajudicial killings, have been documented by Human Rights Watch. The government has also been charged with destroying homes and property and forcibly displacing thousands of people.
Despite these accusations, the government has always denied any wrongdoing regarding human rights violations in Tigray. Officials have asserted that the situation in Tigray is "normal" and that a separate investigation into the allegations is not necessary.
Keep Reading
This abdication of accountability is highly troubling. The Ethiopian government has a responsibility to defend its citizens from all kinds of wrongdoing, even when it comes from its security forces. The government is essentially granting its security forces carte blanche to continue abusing their authority by refusing to acknowledge the gravity of the accusations.
The Ethiopian government must answer to the international community for failing to uphold human rights in Tigray. Leaders from around the world should urge Prime Minister Abiy Ahmed to allow an impartial investigation into the allegations of abuse and prosecute those responsible. Additionally, they ought to support civil society organizations that document abuses and work to defend the rights of victims politically and financially.
International Response to the Situation
Human rights violations have been alleged to have taken place by the Ethiopian government in the Tigray region, where a military operation is taking place. The United Nations has demanded that the allegations be the subject of an impartial investigation.
Numerous instances of extrajudicial executions, enforced disappearances, and sexual assault by Ethiopian security forces in the Tigray region have been documented by Human Rights Watch (HRW). Reports of human rights violations have also been sent to the Ethiopian Human Rights Commission.
Michelle Bachelet, the UN High Commissioner for Human Rights, has demanded an unbiased investigation into the claims of human rights violations in Tigray. She claimed that "credible but troubling information" about regional human rights abuses had been provided to her office.
On Tuesday, the UN Security Council is expected to discuss the situation in Tigray. Abiy Ahmed, the prime minister of Ethiopia, rejected calls for an impartial investigation and asserted that his government is capable of looking into any claims of wrongdoing by its security forces.
The Role of Local Communities in Achieving Justice
Local communities play a crucial role in achieving justice. It would be challenging to hold those accountable for violations of human rights without their assistance. The local population has played a significant role in drawing attention to the atrocities occurring in Tigray.
The Ethiopian government has been ignoring violations of human rights in the Tigray region for many years. These wrongdoings have included torture, arbitrary arrests, and forced evictions. Local communities have long been aware of these abuses, but due to government repression, they have been powerless to take action.
But recent occurrences have given them fresh hope. Following the murder of Hachalu Hundessa, a well-known musician and activist from Tigray, there were several large-scale protests in Ethiopia in November 2020. The demonstrations quickly spread to Tigray and other parts of Ethiopia.
For the years of abuse they have endured, the people of Tigray are now calling for justice. They might finally be able to accomplish it with the assistance of the neighboring communities.
Recommendations
To the federal government of Ethiopia and regional authorities:
• Suspend civilian officials, including interim Amhara officials, and security force members from the Amhara Special Forces and Ethiopian federal forces who are suspected of committing serious abuses in the Western Tigray Zone while investigations are ongoing.
• As necessary, look into serious transgressions of humanitarian and human rights law, including those committed by the three individuals listed in the Human Rights Watch/Amnesty International report from April 2022: Colonel Demeke Zewdu, Commander Dejene Maru, and Belay Ayalew.
• Prosecute everyone accountable for grave violations of human rights in Western Tigray and elsewhere.
• Make it easier for independent human rights investigators, such as the International Commission of Human Rights Experts on Ethiopia, to visit Western Tigray.
• Ensure that Western Tigray and other conflict-affected areas are accessible to human rights monitors, such as the national Ethiopian Human Rights Commission and the UN Office of the High Commissioner for Human Rights, and that they are required to publicly report their findings regularly.
• Create an independent organization that can plan and oversee safe, voluntary, informed, and respectable returns in consultation with the displaced communities and pertinent UN agencies.
Ahead of the African Union
• Make sure that the AU Monitoring Mission, during its anticipated visit in June, publicly reports on protection issues, rights violations, and humanitarian access in Western Tigray.
To the allies of Ethiopia
• Take into consideration imposing targeted financial and visa sanctions on people connected to grave violations of human rights during the conflict in northern Ethiopia and after the cease-fire.
• Keep an eye on initiatives for justice and accountability in Ethiopia and push for more openness regarding official inquiries and efforts at accountability.
• Based on clear and specific indicators of accountability and justice for victims of serious abuses, evaluate re-engagement with the Ethiopian federal government.
• As long as thorough, impartial investigations into abuses committed during the conflict are needed, support the International Commission of Human Rights Experts on Ethiopia (ICHREE), including by renewing the commission's mandate at the UN Human Rights Council in September.
• Encourage the development of independent screening processes to prevent the reintegration of federal, state, and local police and military personnel who have engaged in serious abuses.
Conclusion
It is obvious that the Ethiopian government has been ignoring human rights violations in the Tigray region, and this must change immediately. All people are entitled to the fundamental liberties of life, liberty, and personal security. Ethiopia must be held responsible for these violations, and we must demand that they stop right away. Additionally, the international community must use sanctions, if necessary, to put pressure on Ethiopia to uphold the rights of its citizens. Up until that time, it is our responsibility as individuals to speak up for those who are unable to defend themselves and make sure their voices are heard all over the world.