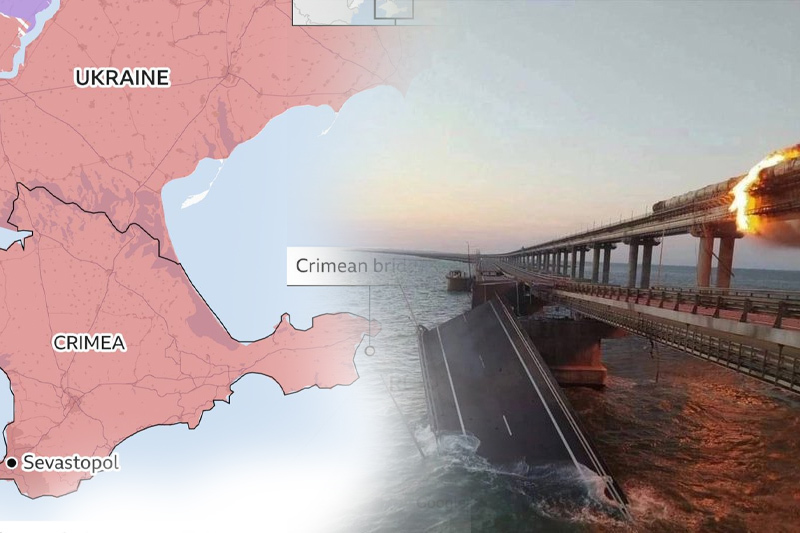 crimean bridge explosion is the beginning
Crimea – A major fire at the only intersection between the occupied Crimean peninsula and Russia was caused by a truck explosion, Russian officials said. An explosion on a section of the road led to the fire of oil tankers on the railway section, after which the road collapsed.
Crimea was annexed in 2014 by Russia, which now uses the bridge to ferry military equipment to Ukraine. The official Ukrainian government Twitter account reacted to the fire with a tweet: "Sick burn."
Mikhail Podolyak, an adviser to Ukrainian President Zelensky, called the damage a "beginning" but did not explicitly take Ukraine's responsibility.
"Everything illegal must be destroyed, everything stolen must be returned to Ukraine, everything occupied by Russia must be expelled," he wrote on Twitter.
Meanwhile, the Ukrainian Defense Ministry compared the explosion of the bridge with the sinking of the Russian missile cruiser Moskva in April. "Two notorious symbols of Russian power in Ukrainian Crimea have gone down," it tweeted. "What's next in line?"
It is difficult to exaggerate the significance and symbolism of the burning bridge. Opened by President Putin in 2018, it was supposed to symbolize that Crimea was Russian.
Russia used the bridge to transfer military equipment, ammunition and personnel from Russia to the battlefields in southern Ukraine. Thus, the Ukrainian authorities have said that this is a legitimate target, since they promise to retake the peninsula.
Any attack on Crimea, where the Russian army has a massive presence, will be seen as another massive humiliation for the Kremlin. The bridge is especially hated by Ukrainians. Social media in Ukraine erupted in celebration after seeing the fire – a day after Russian President Vladimir Putin turned 70.
The National Anti-Terrorism Committee (NAC) of Russia reported: "Today at 06:07 Moscow time [03:07 Moscow time] a truck exploded on the automobile part of the Crimean bridge from the side of the Taman Peninsula. , as a result of which seven fuel tanks of a train en route to the Crimean peninsula were set on fire. "Two sections of the highway bridge partially collapsed."
The speaker of the Crimean parliament, Vladimir Konstantinov, blamed the explosion on "Ukrainian vandals, who finally managed to reach the Crimean bridge with their bloodied hands."