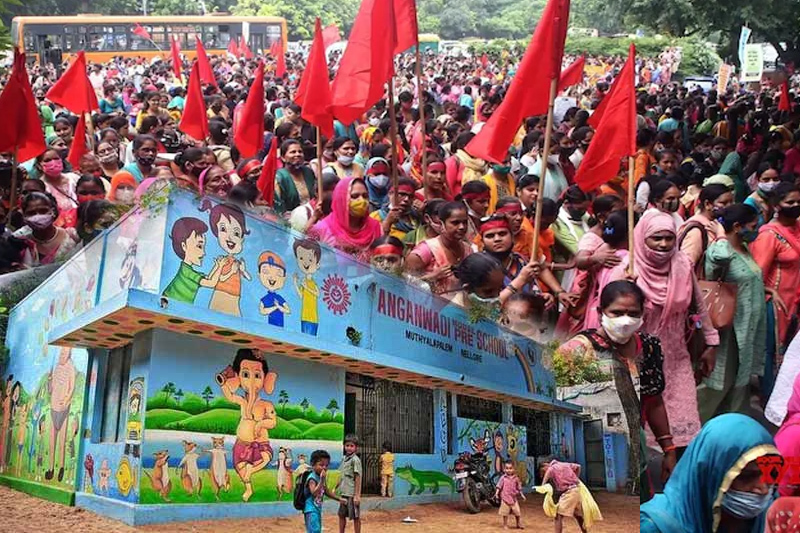 anganwadi workers stage protest outside delhi lg's office

Delhi – Members of the Anganwadi Workers and Helpers Union of Delhi staged a protest in front of the Lieutenant Governor's office on Monday. They demand the reinstatement of laid-off employees. About 100-150 workers, including laid-off staff, gathered at the Raj Niwas Marg and raised slogans against LG and the Delhi government, they said.
"It has been almost a month since the L.G said that he will look into our problems but we haven't received any response from him yet. Our protests will continue until our demands are met," DSAWHU member, Priyambada said. 
On July 16, a delegation of five Anganwadi workers met with L.G. and submitted a memorandum demanding the reinstatement of their laid-off workers.
DSAWHU said that 884 Anganwadi workers received notices of dismissal and 11,942 workers received notices of cause from the Delhi government for taking part in a 39-day strike demanding increased fees and decent working hours.
Related Posts
According to a senior police official, about 40 workers were detained and taken out of the area because they behaved very aggressively.
Readers should be reminded that the lives of 884 Anganwadi workers in Delhi have been turned upside down after they were abruptly fired for organizing a month-long strike demanding higher wages and decent working hours. These workers, consisting of multiple single mothers, were issued a notice of termination on March 14 in connection with their 39-day demonstration.
The workers claimed that despite tirelessly serving the community during the pandemic-induced lockdown, they have not received a paycheck since January and are somehow running the household by borrowing money.
In July, LG said it would look into their demands and intervene in the matter shortly. But in the face of inaction, the Delhi Anganwadi Workers and Helpers Union (DSAWHU) gathered outside the city government's Department of Women and Children Development office at the Kashmir Gate and launched slogans against the AAP-led Delhi government for the reinstatement of laid-off workers.