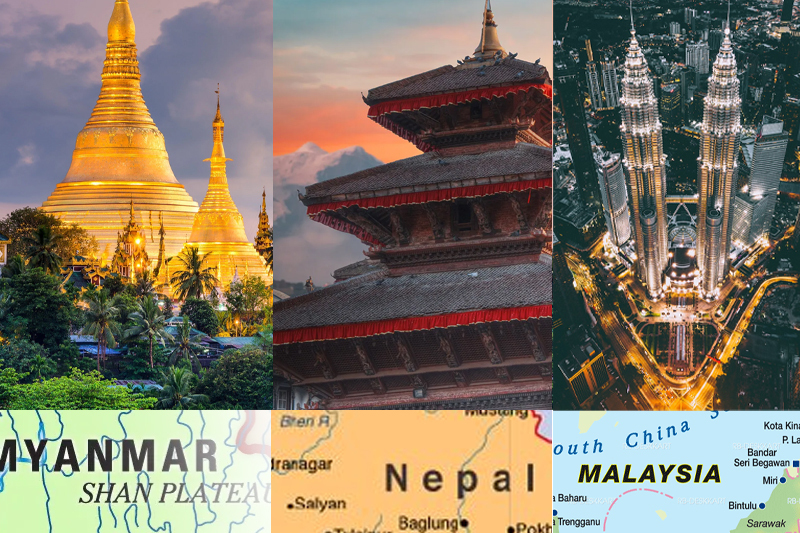 10 countries with the most public holidays
Countries observe national holidays for a variety of reasons, including religious observances, national days, remembrance days, and days commemorating other unique historical events to a particular state, nation, or region.
Public holidays are often designated as non-working days by national law (although it is commonplace for people to work on these days, often receiving a day off in lieu at some other point in the year).
There is a large variation between the number of public holidays recognized by different countries; if you are considering relocating abroad for work, you may wish to investigate this topic. 
Here are the 10 Countries With The Most Public Holidays:
1. Myanmar
Myanmar is the top 1 country with the most public holidays! They celebrated over 32 public holidays in a year.
Myanmar's multiethnic composition allows it to claim the top rank on this list. There are multiple religious public holidays, including the Start of Buddhist Lent (various dates), Christmas (25th December), Eid-ul-Adha (various dates), and Diwali (various dates), as well as historical days such as Independence Day (4th January) and Resistance Day (various dates) (27th March).
2. Nepal
One of the countries with the most public holidays in Nepal.
In addition to a large number of public holidays, 30 holidays in total, Nepal has a conventional six-day work week. Similar to Myanmar, Nepal's cultural diversity adds to the country's numerous religious and nonreligious public holidays. These include New Year's Day (April 14), Holi (various dates), Constitution Day (19 September), Bijaya Dashami (various dates; an important event in the Nepalese-Hindu calendar), and Nari Diwas (a local equivalent of international women's day, observed by women solely on March 8).
3. Iran
Iran has a complex system of 26 public holidays, with many 'unofficial' holidays added each year, bringing the annual total to over 26. Others include Islamic Republic Day, the anniversary of the Islamic revolution, and the nationalization of the Iranian oil industry.
Due to the fact that Iran employs both the solar and lunar Hijri calendars, there are few fixed dates for their national holidays.
4. Sri Lanka
As it celebrates 25 public holidays per year, Sri Lanka takes the fourth spot on the list.
Sri Lanka celebrates a vast array of religious holidays, in addition to numerous interconnected national holidays. For instance, Bak Full Moon Poya Day (April) marks Buddha's second visit to Sri Lanka, and the Sri Lankan New Year is observed on April 13 and 14.
Keep Reading
5. Malaysia
Malaysia with its 23-25 public holidays [as it depends on the state] is also part of the list!
Public holidays in Malaysia are predominantly secular and reflective of the country's rich diversity of religions and cultures. There are state-specific public holidays, such as Thaipusam Full Moon (January or February), whereas federal holidays, such as Chinese New Year (January or February), Labour Day (1st May), and Malaysia Day (16 September), are celebrated nationwide.
6. Bangladesh
Bangladesh is one of the countries with the most public holidays with 22 public holidays per year.
Various religious festivals are recognized as Bangladeshi public holidays: four for Islamic holidays, two for Hindu holidays, and one each for Buddhist and Christian holidays. In addition, other national holidays exist, such as Language Martyr's Day (February 21) and National Mourning Day (15 August).
7. Egypt
Egypt's public holidays are highly complex. For instance, some facilities, such as hair salons, would close on Monday rather than on the actual date of the holiday. The public holiday calendar is a mixture of religious and secular days that are observed in accordance with both the stable Gregorian calendar and the variable Islamic lunar calendar. After the 2011 popular upheavals, Egypt added Revolution Day (January 25) to its list of official holidays.
8. Cambodia
Cambodia's 21 public holiday count also makes it a part of the list.
The great part of Cambodia's public holiday calendar is typically based on the Khmer lunar calendar and Buddhist observances (but the solar year is used too). Thus, the dates of numerous Cambodian national holidays fluctuate annually. The 7th of January commemorates the end of the Khmer Rouge dictatorship in 1979, while the 24th of September marks the signing of the Cambodian constitution.
9. India
The sheer expanse of India and its long history have resulted in an abundance of official holidays. Numerous holidays are based on numerous religious celebrations (including ones from Islam, Hinduism, Sikhism, Jainism, Buddhism, and Christianity). Despite the predominance of public holidays, there are only three national holidays: Republic Day on January 26, Independence Day on August 15, and Gandhi Jayanti (Gandhi's birthday) on October 2.
10. Liechtenstein
This tiny European nation has an abundance of national holidays! Numerous public holidays in Liechtenstein are based on Christian events such as Easter and Christmas. There are some lesser-known public holidays, including Whit Monday (June) and Mary's Birthday (September).
Additionally, there are two public holidays that are shown on calendars but are not recognized by law. These are Shrove Tuesday (also known as "Pancake Day") and Saint Berchtold's Day, celebrated on January 2. Even though they are not official public holidays, most businesses and organizations observe them as such by closing for the day and giving staff the day off.
That wraps up the list! How about you? How many holidays does your country celebrate?