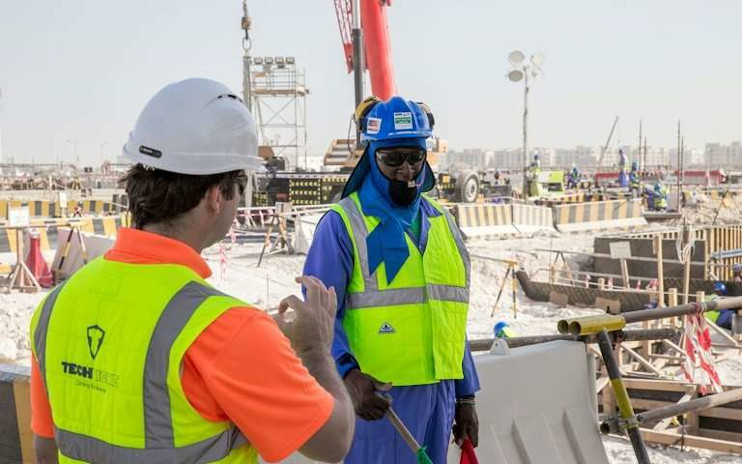 (C)phys.org
While human rights organizations criticize the delay in implementing the labor system reform in Qatar, the World Cup organizing committee announced that 9 migrant workers working in the 2022 World Cup stadiums in qatar had died in 2019, bringing the number of deaths in World Cup projects to 34 since its inception 6 years ago.
31 deaths, including 9 people who died last year, were categorized as "non-work related", a term used by the Supreme Committee to describe deaths that occur largely outside the workplace, most of which are attributed to heart disease or sudden and mysterious respiratory failure.
The latest figures published in the annual report of the Supreme Committee on Worker Welfare included 4 workers who died due to so-called natural causes, and 3 were killed in a company bus accident, while there were no deaths due to workplace accidents in 2019.
The Supreme Committee said it was investigating every death case to determine contributing factors and preventive measures.
Although Qatari law and standards for worker welfare in the Supreme Committee do not compel companies to pay compensation for non-work-related deaths, the Guardian newspaper revealed last October that Qatar rarely examines the corpse after the migrant worker dies, making it difficult to determine the exact cause of death, and to determine whether It was or not related to work.
The Guardian also found that the intense summer heat in Qatar is likely to be an important factor in many worker deaths.
The widow of a stadium worker who died last year is still waiting for a response to a letter she sent to compensation office, as her 24-year-old Nepalese husband, Robchandra Rumba, died suddenly while sleeping in June.
In the letter that was sent more than a month ago, Nirmala said that the company that directly employed Rumba had offered her only 7,000 Qatari riyals (1500 pounds).
And in the message: "In the absence of my husband who was taking care of our needs, our family is going through a serious crisis, I think that my husband's life is worth more than 7000 riyals."
the reforms revealed by the Qatari authorities and the United Nations International Labor Organization to end the system of "sponsorship" according to which workers cannot change jobs without obtaining permission from the employer, a practice of a modern form of servitude are still not implemented and is just ink on paper.
Heba Zayadin, a researcher on the Gulf issue at Human Rights Watch, explained that "migrant workers are overburdened with work and live in dismal conditions without pay or for cheap wages for continuous months, and that every day they spend trapped, is a day they spend in fear, anxiety and instability.