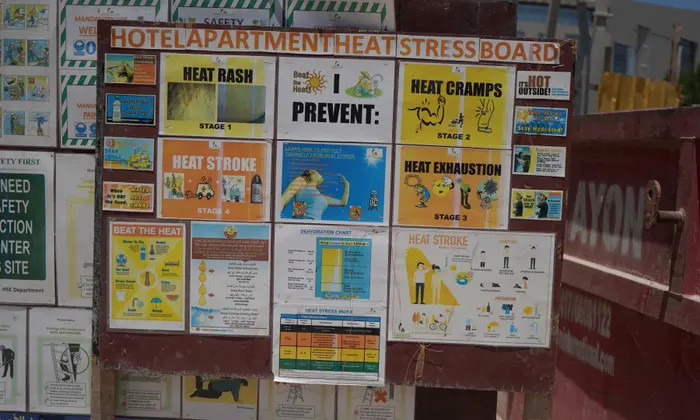 (C)TheGuardian
The Qatari regime continues its inhuman policies against expatriates, specifically the 2022 World Cup facilities' workers. Despite many and repeated promises from the Tamim bin Hamad government to the international community confirming an efficient improvement of the migrant workers' through the application of laws and procedures' package, but those laws did not go beyond words, And remained the same on paper and not applied.
British newspaper The Guardian, revealed in a report on the workers tragedy in Qatar, stressing that the completion of the World Cup 2022's facilities will lead to the death of more than 4 thousand migrant workers; what will pollute the whole championship with blood and damage the reputation of "FIFA".
The newspaper continued in its report, there are about 30 thousand workers involved in the construction of projects and all of them without exception suffer from the violation of their rights, there are no public safety means, appropriate wages, and severe neglect in the workers' health.
The report confirmed that FIFA asked the Qatari regime to apply global standards for workers' welfare, since 2014, but the Qatari regime has not implemented its agreements so far, most notably ethical recruitment and payment of salaries in a timely manner and a complete prohibition of forced labor, in addition to moving workers to modern accommodations.
In the same context, the British newspaper "The Independent" revealed in a report that the World Cup facilities' workers are slaves to the Qatari regime. They are building shrines and not stadiums, stressing that Tamim bin Hamad and his regime are facing a very long list of accusations about violations against workers, those violations varied between enslavement and preventing workers from leaving the country, "compulsion to work," violating wage protection laws and not paying low wages for months.
The International Trade Union Confederation, published a report containing testimonies from workers recounting atrocities in Qatar, and described the Qatari system as a "system without conscience". According to the report, violations include the following: workers who live in "bad and overcrowded housing", employers who confiscate Workers' passports, workers who are threatened by a complaint about working conditions, workers who have to pay up to $ 4,300 for recruitment staff in their home country, to get a job in Qatar, with some not paying wages, and the International Federation of Trade Unions report estimates that 4,000 workers And they will die before the 2022 World Cup, an estimate based on Death trends previously reported by embassies within the country.