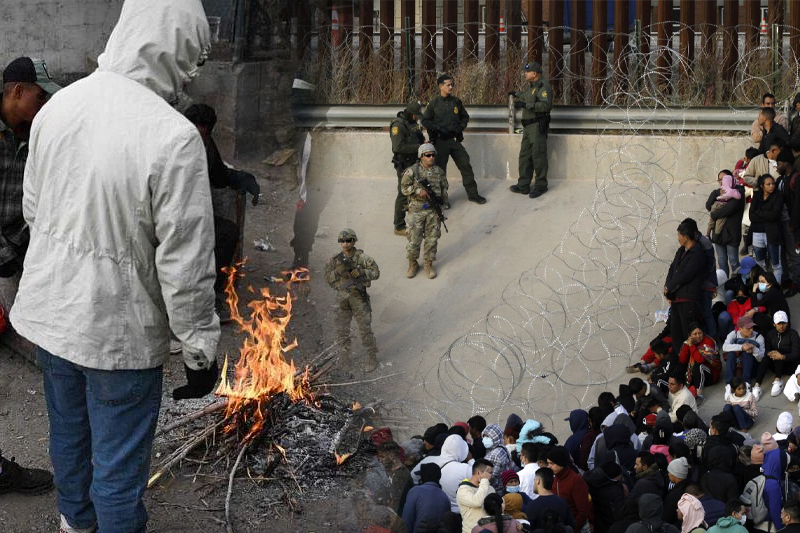 venezuelan migrants showed disappointment the us border
Last updated on December 22nd, 2022 at 07:01 am
A large number of migrant people in Mexico are waiting for a chance to cross the border of the USA. But they are deeply saddened by a Supreme Court ruling that could lead to a widespread ban on entry.
The migrants were fleeing the worsening conditions of COVID-19 and are now stuck at the Mexico border for weeks or months. this week for the end of a COVID-19-era policy that allowed the US government to deny entry to millions of people. They may have to wait longer.
Migrants but Humans
A large number of migrants troop are waiting for the U.S. government to open the border. They are surviving in very harsh conditions. Temperature is very below normal, and without food & shelter. They are cooking food in garbage bins and sleeping on the streets. The temperature is approx. -5C- hundreds of people are waiting to enter the U.S. and have a peaceful life.
Keep Reading
The number of Venezuelans eagerly wanting to reach America since leftist President Nicolas Maduro led.
According to UN sources, more than seven million Venezuelans have fled their country. They put their lives in danger just in hope of better life. Many people want to enter America. According to the United Nations Refugee Agency, about six million people live in the Caribbean and other countries in Latin America.
Last October the US announced a program of a humanitarian program intended to permit 24,000 Venezuelan to enter America, but all the people who want shelter need to prove the reason for it.
Simply many will not able to cross the border if they are lacking in documents.
Now, A voice is in the courtroom too, to remove article 42 which is widely criticized as cruel and ineffective. This article is about migrants away. This Monday Republicans filed a petition in court to remove article 42, but the court gave an emergency stay until Tuesday.
This made a large crowd near the borders.
But in simple terms, it means Title 42 could still expire this week if the court says in the government's favor and it can be extended until the court takes look at the issue.
Thousands of migrants suffer harsh conditions at the border, hoping for a better future between the US government and the court.