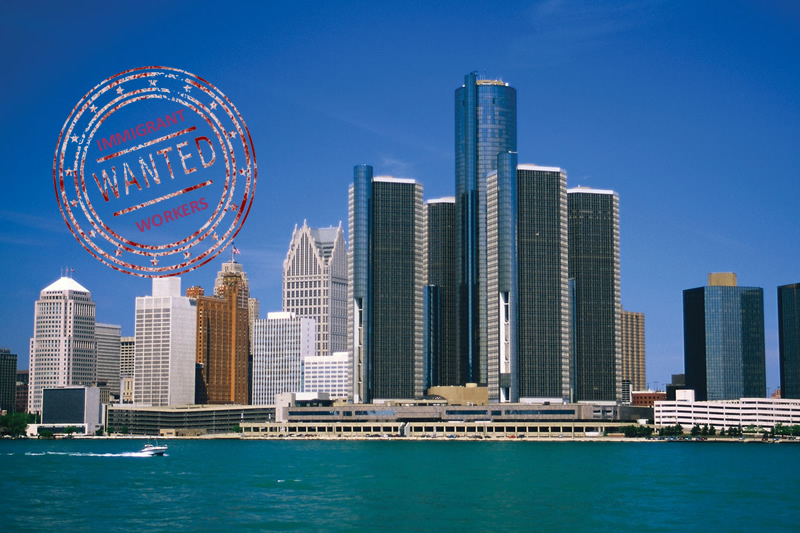 Immigrant workers wanted in Michigan, USA

Michigan, USA – A global talent war has struck between the most sought after industries in United States of America's state of Michigan. The industries are trying to lure skilled immigrant workers and international students away from the Silicon Valley. Business leaders in the state are coming forward with investments to train Michigan students, but that is largely for future 'backup'. The immediate need for skilled workers are still best fulfilled by recruiting immigrant professionals.
"There's an instinct about 'well what are we doing with our own; why aren't these opportunities for Michigan-born kids?'" said Steve Tobocman, executive director of Global Detroit, a regional economic development strategy that is focused on employing immigrants and international students. "There's no doubt that is a public policy priority. We should be thinking about growing STEM education and increasing the number of Michigan students who go on to these critical fields, but we can't wait for a lot of the kids coming into kindergarten to finish graduate school," he added.
Labor shortage and crisis in the market of workers due to supply and demand disparity is the prime reason that now competition has become fiercer. Increase in products of technology industry like electric motor vehicles needs more skilled workers and it needs it now.
According to Glenn Stevens, the executive director of MICHauto, an economic development initiative of the Detroit Regional Chamber, the automotive is currently focusing on recruiting high-talent workers to bolster electric vehicles' future. By reversing Trump's immigration policies President Joe Biden has gained confidence of businesses. But a big hurdle in that journey lies the citizenship issue for immigrants.
Related Posts
Michigan is among the top 10 destinations for H1-B visa holder migrant workers. These visas are given to high skilled foreign workers with technical expertise who can be hired by the companies. But obtaining this visa is a tricky job. The H-1B visas issued each year is capped at 65,000, with additional 20,000 for people holding advanced degrees from American universities. To file H1-B visa petition the applicant must have a bachelor's degree or the equivalent in a "specialty field".
The complex immigration process in USA is making it lose battle of retaining talent to Canada. Immigration attorney Herman Dhade says American international students as well as immigrant workers are gradually moving up north to Canada that has a more welcoming citizenship procedure. Former Republican Gov. Rick Snyder of Michigan had proposed creating 50,000 special visas that mandated migrant workers to live in Detroit. But the proposal never made it out of the door. Kenan Fikri, research director at EIG (Economic Innovation Group) says that increasing H1-B visa cap is essential. But the problem lies that majority of high-skilled talent is sucked in by big states and companies, leaving behind a small portion of talent pool for the rural regions, which is in actual need of skilled workers. Fikri says Michigan can be the "poster child" for "heartland visa" – the visa that targets sending talent into struggling communities. "The window is now open because the demographic trends are so clear," Fikri said. "I think that the political winds may change here soon as the extent of the labor shortages coming out of the pandemic make themselves felt."