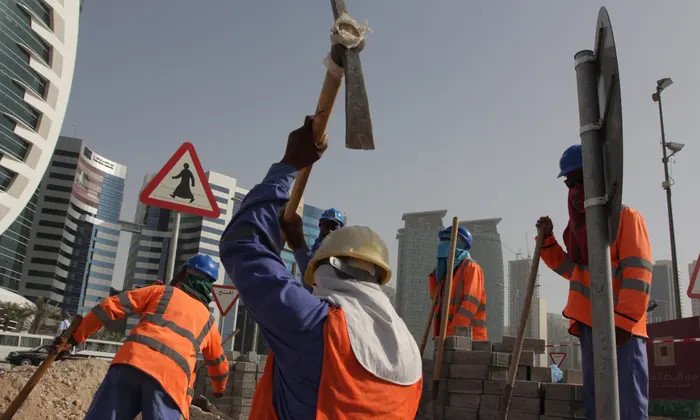 (C)TheGuardian
The US State Department said that the Qatar's' government has not taken sufficient measures to stop violations of its workers rights, and the death of workers in Qatar as a result of harsh working conditions is the best example of that. It added, that the US State Department confirmed continued violations in Qatar of workers' rights.
Violations by the Qatari regime against expatriate workers in the country are still continuing, while death rates have increased among workers in the stadium facilities for the World Cup 2022, while a Qatari opposition report confirmed that Doha has suspended work visas for 40,000 Nepalese following the spread of the "Corona virus", while the Qatar News Agency reported, that the Qatar Health Ministry announced the registration of 238 new cases of corona virus
The Health Ministry said on Twitter: "The Public Health Ministry announces that 238 new confirmed cases of coronavirus (Covid-19) have been registered in the State of Qatar for expatriates who were in contact with the three cases that were declared infected with the virus last Sunday and who live in one residential complex."
The Qatar opposition website, affiliated with the Qatari opposition, said that the Nepalese "The Himalaya Times" website confirmed that the Qatari authorities had suspended work visas of 40,000 Nepalese workers out of 400,000 Nepalese working in Doha to intensify work and finish construction work for the World Cup buildings. The site said: Qatar Threatened with the departure of all foreign workers, due to the "Corona" outbreak and the absence of strict protective measures.
The website of the Qatar opposition added that the Nepalese airlines have stopped travel services to Qatar, and the workers will be able to leave Doha whenever they want, Tamim will resort to stopping construction work until the workers return, and thus the World Cup Qatar 2022 will be threatened.