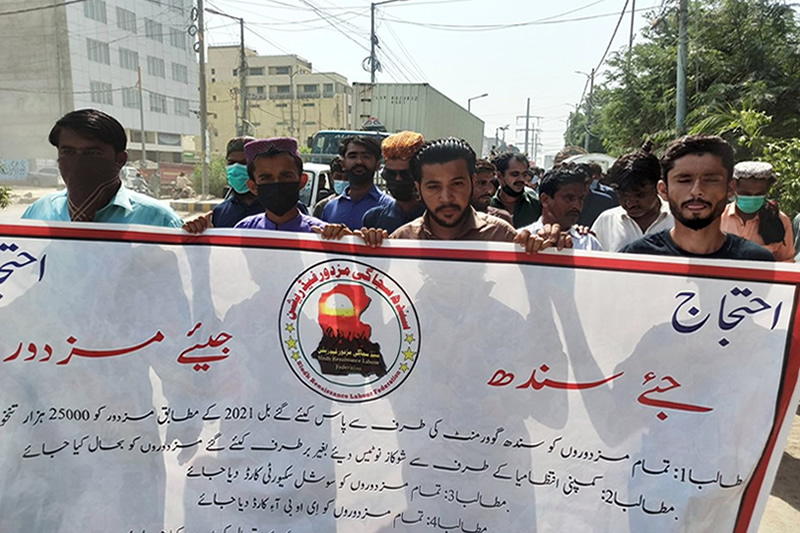 Textile workers protest outside their company as they demand for minimum wages

Pakistan – Most of the Luxury cloth brands have a very esteemed image for themselves where they limit themselves to people who can truly afford them, are worthy of their clothes and many more such aspects. But it is not all shiny and glittery in fashion as the people involved behind the scenes are one of the most illiterate sections of the society.
The current situation in Pakistan is a testimony in itself proving how garment workers are mistreated in the country. Workers were found to have been protesting outside a denim clothing company, which produces apparel for fast fashion brands, where they were demanding minimum wages along with basic human rights.
The video was found on social media site Twitter posted by a human rights activist/journalist Fawad Hazan where it can bee seen that the workers are fighting for basic human rights, social security and better wages.
If this was not enough to prove how tortured these workers are, another clip went on to show an officer beating workers and abducting 35 of the protesting employees.
The human rights activist also said that these facilities are no more than a prison for the workers where they are being threatened at every moment. This was not the first time that such an incident with textile workers came into view in Pakistan. Earlier in May, there was a similar protest where the workers were scared that they would not be paid the Eid bonus.
Related Posts
Then too, the workers were protesting outside the gates of the denim clothing company and continued to do so till they were promised of being paid the bonus. Following the protest, even though the company accepted their demand in order to silence their voices, it suspended the pick and drop service to and from their home.
This shows the level of ill treatment these workers are subjected to. They had to fight for their rights and hence they once agains protested outside the company which was retaliated by the police open fired and injured demonstrators.
If this was not enough, it was the company that had filed a complaint against the workers under which 800 of them were taken into custody and were only relieved after trade unionists intervened in the matter. This is not the only factory that is subjected the textile workers to torture as there are many other in the province which do the same treatment to them. The Police has also favoured the powerful in this matter having beaten many of the workers after taking them into custody.