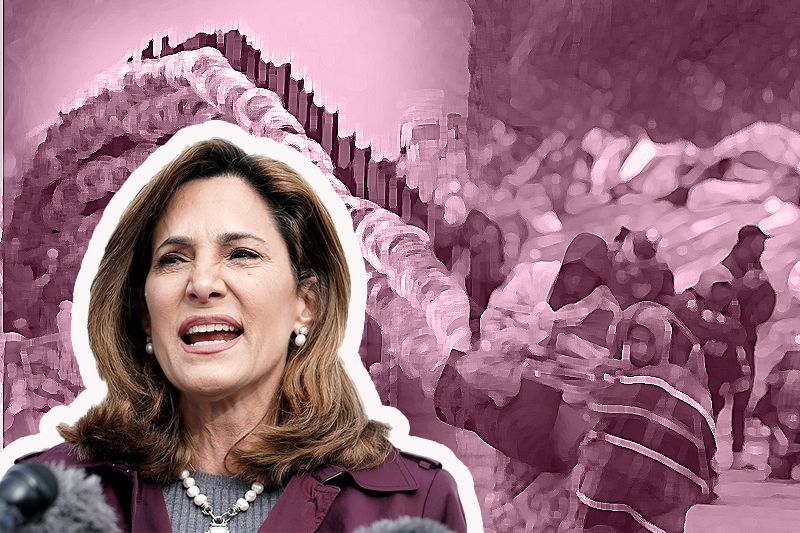 republicans push back against party's immigration agenda
In Little Havana, more than half the residents were born abroad. And Republican U.S. Rep. Maria Elvira Salazar won reelection by 15 points last year.
A key indicator of the GOP's recent gains with Latino voters in the U.S. and especially in Florida is the dominance of Florida's 27th congressional district. Last year, those gains helped Republican Gov. Ron DeSantis win reelection and helped the GOP regain control of the U.S. House.
It is, however, leading to some tension in Washington as the newly emboldened Republicans aim to push for a more aggressive immigration policy agenda. One of the few Republicans opposing a sweeping House proposal restricting asylum at the border with Mexico is Salazar.
In a recent interview, Salazar said, "We understand immigrants' desire to live in the promised land. Legal immigration is good for the country and District 27."
Texan Rep. Tony Gonzales, a Mexican American Republican whose district spans the U.S.-Mexico border from El Paso to San Antonio, has gone even further, calling the legislation "anti-immigrant."
Keep Reading
The dissent highlights a challenge for the GOP. The party's future may well depend on expanding its appeal beyond an aging, largely white base of supporters. The GOP could repel other persuadable Latinos if it moves too far to the right on immigration, even though some conservative Latinos support hard-line immigration policies.
On this front, Democrats are also facing political challenges. The Biden administration recently proposed a measure imposing severe restrictions on asylum, arguing that the growing number of migrants leaves them little choice. Progressives have criticized the push, which is almost certain to be challenged in court.
Most Latino voters share the party's conservative stances on immigration and other issues, so Republicans have long earned the support of roughly a third of Latino voters. The AP VoteCast estimates that 39% of Latinos voted for Republicans in the November elections. That's an increase from 32% who voted for Republicans in 2018.
Trump and DeSantis backed Salazar, who spoke out about the importance of securing the border and pushing for an immigration overhaul that would give legal status to those already in the country illegally. According to her, she is simply collaborating with her colleagues to ensure that the proposal does not violate asylum laws.
Salazar said, "The formula hasn't changed. We want the Albert Einsteins of the world to come work for us."
Several recent exodus of Cubans have been linked to the massive protests that erupted in Cuba in July 2021 and the government's response to them. This issue is of particular importance to her district. Cubans are fleeing their homes in the largest numbers in six decades to escape economic and political turmoil. Many fly to Nicaragua as tourists and then cross the border via Mexico to the U.S.
Salazar said, "I know my district appreciates what I'm saying."
Several Democrats oppose Roy's legislation based on Salazar's comments. During a border security hearing recently, U.S. Rep. Eric Swalwell, D-Calif., displayed a poster board that featured a quote from Salazar: "Are we stupid? Come on. This country was founded on good minds. Look at Albert Einstein. We gave him a piece of paper to come in."
As a refugee from Nazi Germany, Einstein arrived in the U.S. in 1933.
As Swalwell told his colleagues, "Listen to your own colleagues, who know more about this than you do.".
Also Read:- Billa Online Shop Offers Jobs to Employees Of Gurkerl.at